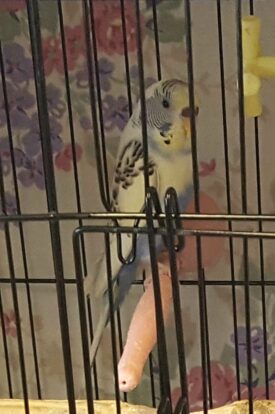 Lovely blue and yellow budgie, Lucy, came into our BC SPCA Kelowna Community Animal Centre on March 22, 2017.
At two years of age she was given to friends by a person who was unable to care for her. These friends did the right thing and brought her to us so that we could find her a new home.
Lucy was not thriving at the shelter, so she went into foster care with one of our wonderful guardians, who started the process of bringing her out of her shell. Slowly, Lucy began to respond to to having human company talk and whistle to her.
On April 8, 2017, Lucy found a home where she could become part of a flock, with humans who understood her needs. Six years later, we are happy to hear from her guardian that Lucy is very happily re-homed indeed.
"When I saw two-year-old Lucy on the BC SPCA website, I knew she would be a perfect addition to my budgie flock!
Unfortunately, Lucy had been very neglected and was terrified of humans. She was so afraid, in fact, that she was not housed at the BC SPCA, but rather a staff member's home. When I collected her from her foster, she flew violently around her cage, bruising her wings in her terror.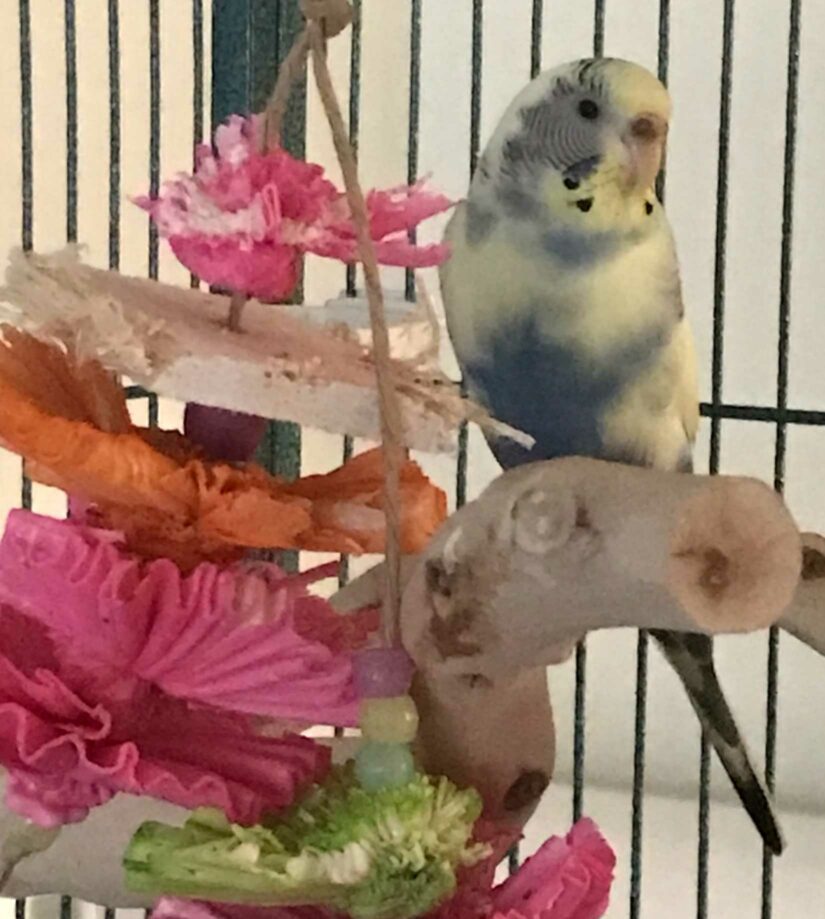 It took several weeks before I could change her cage, or bring fresh food and water without causing extreme panic. But slowly, Lucy began to settle and learned to trust me. When she was ready, she joined my flock and was welcomed by four new budgie friends.
Though she is still fearful of being handled, she will now take treats from my hand and she has become a happy, well-adjusted birdy. She loves to spend time destroying her many toys, flying around the living room, and perching on her special branch where she can see outside into my garden.
This month, Lucy turned eight years old!"
It's hard to imagine Lucy ending up in a better home. Thank you for choosing to adopt and enrich the life of one lucky budgie!
Have you adopted an animal from the BC SPCA and want to share your joy with others? Submit your adoption story!