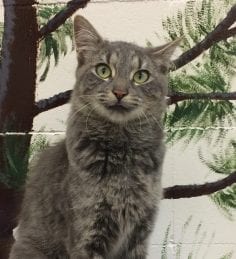 Lucy arrived at the BC SPCA North Peace branch in August 2017 after being abandoned by her previous guardians. A family friend had surrendered her to the branch, hoping to find her a new home where she could enjoy the many remaining years of her life. Soon, Lucy was fostered by a family who couldn't help but adopt. Here's what her new mom had to say:
We already had a one-and-a-half-year-old cat named Pippin who we adopted as a kitten and had recently lost our eight-year old dog, Sam. My sons adore cats and each wanted one to love, play with and sleep on their beds. We already knew Pippin got along with other animals and wasn't the jealous type, so I took the boys to the BC SPCA North Peace Branch. It was there that we were introduced to two cats that the staff thought would get along with a second cat in the home.
Both cats were very playful and fun, but my boys agreed that one-year old Lucy was the cuddlier of the two, so we brought her home to foster for two weeks before making a commitment to adopt. She took her time to explore the house, which wasn't surprising since she had been an outdoor cat before.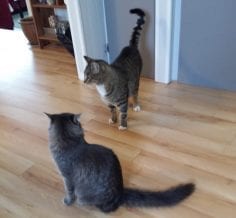 It took the full two weeks for her to decide whether or not she could live with Pippin; she hissed and swiped at him at first. We asked the BC SPCA for advice and decided to keep them in separate rooms with a glass door in between for about a week, switching their rooms so they would get used to each other's scents. Then, we did small supervised visits in the same room until they were comfortable with each other. Now, they are getting along well, and they play and chase each other regularly.
Since Pippin has taken my older son's bed for his domain on the top bunk, Lucy has been declared my younger son's bunk mate. Pippin is quite independent, so we all really enjoy Lucy's tendency to jump up on laps for snuggles and nudge her head under hands for pets. She also tries to sneak the last few drops of milk out of cereal bowls and we've learned to guard our ice cream. Lucy was the perfect addition to our family, we're so glad we found her!
It sounds like Lucy has made herself at home in her new surroundings and we're so glad she has. Thank you to Lucy's family for making adoption their first option and for welcoming Lucy into their family with open arms.