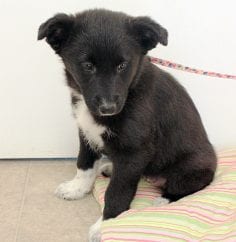 Lola was shy of just three months old when she was found abandoned and brought in to the BC SPCA Williams Lake and District Branch in March 2014.
We identified her as a Karelian bear dog and border collie mix—two extremely intelligent and high-energy breeds. We knew that we had to select an adopter who would give Lola all the stimulation she needed, along with space to explore and keep her mind occupied.
When Judy and Bruce came to us to find their next canine companion, they described to us the type of dog they were searching for. We knew they'd be the perfect fit for Lola.
Four years on, we are confident that this match was meant to be, and we now have an update to share on Lola's life with Judy and Bruce:
We live in an isolated area. So, after our previous dog passed away, the bears and other critters were getting much too close for comfort. With this in mind, we went to the BC SPCA Williams Lake and District Branch looking for a guard dog in the spring of 2014 for our adults-only farm with no other dogs.
The local staff agreed that this little Karelian Bear Dog pup named Lola might be a good fit for us. Their judgement was perfect. We're so grateful that the BC SPCA took the time to filter through several applicants and then allowed us to adopt this very intelligent, high-energy dog.
As a Karelian Bear Dog, Lola has a very specific response to bears and sometimes other large animals (such as moose): she woofs, jumps around, her hackles go up, she backs the animal up and then she holds them there until we come over and do something about it.
Lola has an innate sense of how far she can push things so no one gets hurt. Bears are simply no longer an issue—problem solved.

Lola also has some very wolf-like behaviours. She likes to curl up in dark, quiet places like under desks as if she is hiding in a den. She rarely barks, and is almost completely silent. However, she sometimes issues a marvellous high-volume wolf howl while she is dead asleep, and then wakes up, embarrassed.
Most importantly, Lola is the smartest, friendliest dog we have ever known. She has never met a child she doesn't like, and she is endlessly tolerant of all kinds of rough handling. She knows if she has frightened somebody and immediately steps back and waits until they calm down.
Lola will calmly and carefully herd horses and cows away from the gate, down the road or off the trail. If we say "come" just once she is instantly there, looking at us for instructions. If I point and nod my head, she knows what I want.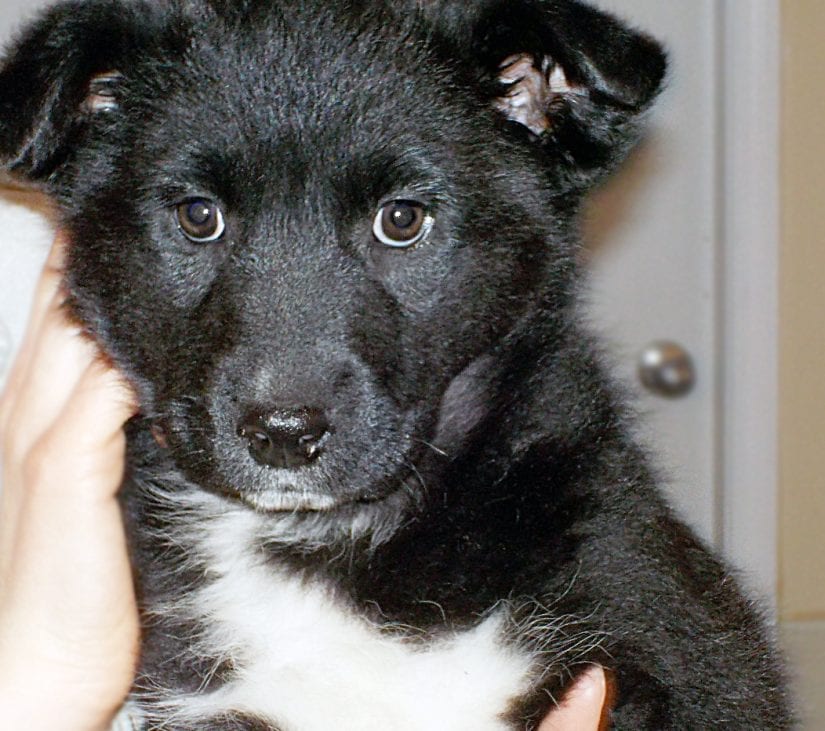 Lola likes to hang out with the horses, and she particularly loves to swim and run around faster than a speeding bullet. She has over-the-top excitement when a doggie friend arrives for a visit, and seems to get along well with all the dogs. She goes where we go, and does what we do.
Lola is a deep thinker: she knows what you're thinking before you know it yourself. She is a cuddle-bug and seems to be able to communicate with us very well, but she probably thinks we're stupid.
So, this is to offer a heartfelt "thank you" to the BC SPCA staff who used their expertise to identify the special qualities Lola has, and saved her until we came along. We have been privileged indeed.
Thank you, Judy and Bruce, for choosing adoption as your first option when you were looking for a guard dog to suit your home. It's evident that you have put infinite amounts of energy and time into training Lola and keeping her clever mind busy. Lola's social skills with children and dogs, along with her instincts towards bears and other creatures, demonstrate your commitment to giving her a wonderfully balanced life.