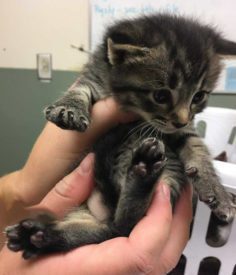 On August 21, 2018, a beautiful four-year-old stray tortoiseshell cat was brought into the BC SPCA North Cariboo District Branch with her five tiny tabby kittens. Po Po was one of those kittens.
Po Po was only four weeks old when she was rescued from a life of struggle outdoors, where she and her own eventual offspring would have become statistics in BC's serious cat overpopulation problem.
Instead, all six kitties were homed together with one of our foster families, given the medical treatment they needed, spayed and neutered and adopted into good homes. Po Po found her forever home on October 24, 2018.
Here's an update on Po Po from her new home, where she is now known as Little Cat:
We live on a small farm with two dogs, eleven chickens and a lot of wildlife. While we enjoy our outside time with our fuzzy and feathery friends we were missing someone to play and snuggle with while inside.
After conducting some research and much prompting from our four-year-old son, we decided a cat would be the best fit.
It only took one visit to the BC SPCA North Cariboo District Branch to find our perfect companion: an energetic, outgoing, sweet-natured kitten called Po Po.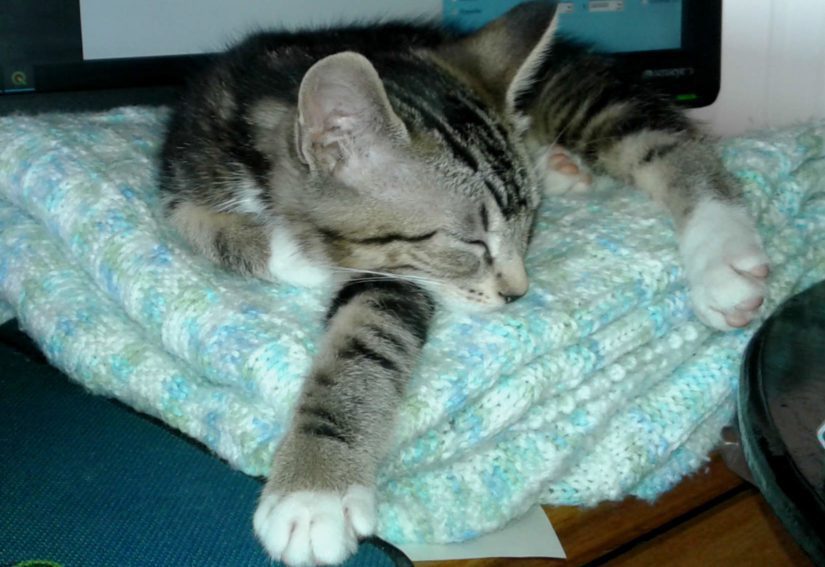 After coming home, she spent the first few hours with us in a small room to get acclimatized to her new space and us. Following a quick tour around the small room she promptly started purring, playing with us, responding to her new name chosen by our son (Little Cat) and even had a nap with our son in a nest of blankets and pillows.
She now has full run of the house and has chosen her favourite spots: the lower nest in her cat tree that overlooks our computer room and has a view of the backyard, on my desk (and chair sometimes) as well as her night-time hang-out at the foot of our son's bed.
Her favourite game is running through an obstacle course chasing a toy and she always joins us for bedtime story time, adding her small purring rumble as background music to the story.
We were very surprised how quickly and seamlessly she meshed into our family and adjusted to her new surroundings, such as learning litter box and scratching post locations. We are looking forward to many happy years with our Little Cat.
How lucky is Little Cat, to find a safe, warm indoor home, complete with her very own best buddy–your son.
From these photos, she looks perfectly content as an indoor cat. And she'll live a longer, healthier life in your loving care. We too wish you many happy years together. Thank you for choosing to adopt.
Have you adopted an animal from the BC SPCA and want to share your joy with others? Submit your adoption story!