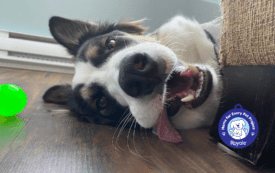 When he was just about a month old, Sheldon was surrendered to the BC SPCA North Cariboo District Branch with his siblings.
With the looks of an Australian Shepherd but the size of a Rottweiler, Sheldon was a particularly interesting mix. We soon discovered how much of an affectionate sweetheart he was.
We knew it would be only a matter of time before the right guardian came along and fell in love.
Sure enough, once he was old enough to be adopted, Jordan came into the shelter looking for her new canine companion. Naturally, she couldn't resist Sheldon.
Several months later, Jordan has sent us an update on Sheldon:
Sheldon settled extremely well into our family as soon as he came home. He spent the first six months with me in Prince George before we moved to Prince Rupert in early July.
He loves the new puppy friends he meets and exploring all the new trails and things to see.
One comment I always hear when people meet Sheldon is how sweet and friendly he is with new people and dogs.
When I tell them his age they are shocked at his size for only being nine months old! He is currently about 60 pounds and is bigger than many full-grown dogs he meets at the park.
Sheldon has grown into a big goofy pup who likes to play with his toys and be close to us. Everyone who has met him has fallen in love with him.
Sheldon's biggest challenges were learning how to go potty on something other than snow and learning how to share the bed (we're still working on that one). He also destroys all his toys—even the ones that claim to be for the roughest of dogs.
Sheldon loves to sing and play with sticks he finds on his walks, as well as cuddle with his people.
Thank you, Jordan, for choosing adoption as your first option and for giving Sheldon his forever home. We love seeing how he has grown and become so comfortable in his surroundings. Thank you for giving Sheldon all the exercise, love and attention he needs. We wish you many more happy years of fun adventures together.
Have you adopted an animal from the BC SPCA and want to share your joy with others? Submit your adoption story!