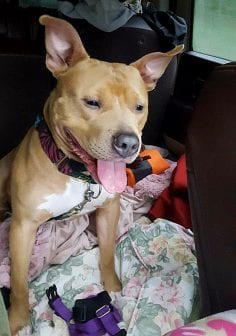 Lexi had a bit of a rough start to her happy ending in a forever home. She was rescued at age one, underweight and with broken teeth from chewing on the bars of her outdoor kennel. She eventually made her way to the BC SPCA Haida Gwaii Branch in the hopes that she would find her forever home.
Lexi, however, carried some emotional scars from her past life and did not thrive when put back into a kennel situation. She went into her doghouse and would only come outside to eat when there were no people around. If anyone appeared, she put her tail between her legs and run inside to hide.
She went into a foster home with a loving caregiver, who unfortunately suffered a sudden decline in health. Lexi was moved into another foster home, who happily became 'foster fails' when they couldn't bear to part with the lovable canine.
Her new family let us know how Lexi is doing in her forever home: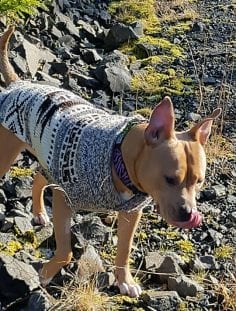 We quickly fell in love with lovely Lexi, introducing her slowly and carefully to the outside world. We often see her looking around as if seeing so many things for the first time. When she had to go to the vet to be spayed, we stayed with her as she was anesthetized so that she would not be scared.
We feel truly blessed to have Lexi in our family. I'm amazed at the love she has not only for us but anyone that comes into our home. She figures everyone wants kisses!
Even though she is over a year old, because she is experiencing so many things for first time, it's like having a puppy mentality in adult dog body.
We love her very deeply and would do anything needed for Lexi.
Thank you for sharing Lexi's amazing progress and how happy she is in her amazing forever home. And thank you for making adoption your first option.