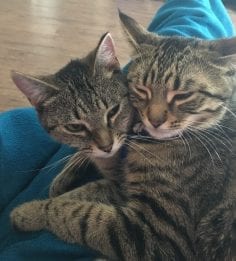 When Láska and Baffi ended up at the BC SPCA North Peace branch, little did they know they would soon find a forever home – and each other! The two tabby girls were brought into the shelter as strays within weeks of each other and waited patiently, soaking up love from staff and volunteers, until one wintery day when their new guardian walked through the front door.
Now safe and sound with their new family, the two young cats are living the life we'd always wished for them. Here's what their new family had to say:
These two kitties hit it off from the start, although quite different in personality. Baffi is a talker and Láska is ridiculously affectionate. Both have settled into their new home.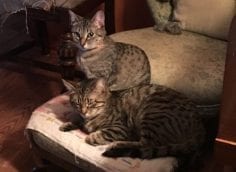 Láska has quite the personality; she is confident and adventurous. She goes for walks on her leash and like all cats, loves to roll in the dust. She is heavy-footed enough to announce her presence.
Baffi has warmed up and is gradually becoming less skittish. She isn't a fan of being picked up for too long yet. She does, however melt like butter in a hot pan for her morning brushing and demands more. She is light-footed and prefers to surprise rather than announce.
We are so glad to hear that Láska and Baffi have such an amazing life together. Thank you to their family for choosing adoption for not one, but two very special animals.