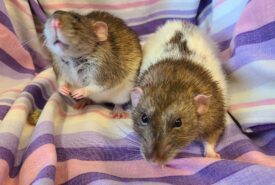 Our rat friends deserve a loving home just as much as the next adorable animal in need. Koda and Kenai were certainly no exception. These two friendly boys came into the care of BC SPCA Kelowna in the spring of 2022. They were so sweet and affectionate that we had no doubt they'd be picked up by the ideal guardian.
After a full month in our care, Koda and Kenai were ecstatic when Kristina came to their rescue. They had found their person and Kristina had found the perfect pair of rats to complete her family.
Now, several months later, Kristina has written to us with an update:
"In March 2022, I was on the BC SPCA website when I noticed a pair of bonded one-year-old male rats looking for a new home. However, they were pretty far from where I live, so I moved on.
I went back on the site about a month later and noticed they were still available. A month to a little ratty who already has such a short life span? No, sir.
I contacted the BC SPCA Kelowna centre where they were located and asked all about them. Within a few hours of that email, I had an appointment to drive the seven hours to Kelowna to meet and potentially adopt them.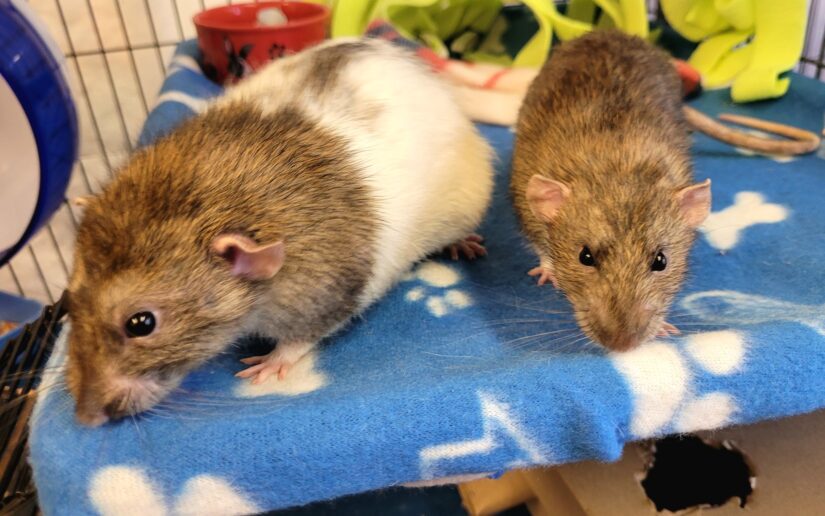 When I arrived and met Koda and Kenai, it was love at first sight—for all of us, I think—as I was immediately covered in kisses. That sealed it. The adoption was completed, and I bundled them into the cat carrier for the long trek home. They did fantastic.
I had a temporary cage set up for the first few weeks while Koda and Kenai became acquainted with my current mischief of four boys. When the face-to-face meeting took place, it was like they had known each other all their lives. There was absolutely no drama, which, for a bunch of one-year-old drama queens, is saying something!
In fact, it went so well that after a few hours we went for a walkabout. That's where I take the ratties to make the rounds at the pet stores and the farmer's market to get them socialized and buy some fresh vegetables. They are always a hit, quickly becoming the centre of attention wherever we go. It also spreads a good message about a much-maligned species of pet.
Koda is the big boy of the bunch. He is very playful and loves to chase and wrestle with my hand. Kenai is more the size of the other boys and lives for his neck and cheek scrootches.
They both boggle and wag their tails when I scrootch them — the first time I had ever seen tail wagging. They are still big kissers and love cuddling and playing with the other boys. Free roam time is their favourite time of day because they explore, forage, run and play. There is nothing better than seeing their little ratty hops when they are racing around — except maybe watching them fish for peas.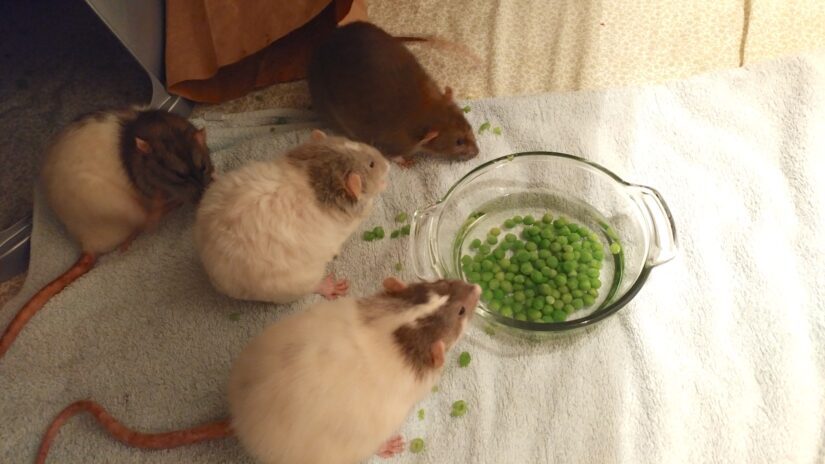 Adopting from the BC SPCA is such a rewarding experience. You get to fall in love with a beautiful soul who needs you. I have adopted various animals from multiple BC SPCA locations and I love them all more than I can say. I have four adopted babies in my house right now.
For anyone who is unsure about adopting an older animal, I can say that I have adopted all age groups from eight weeks to 16 years old. I have never—and will never—regret my time spent loving and spoiling my senior babies.
If anyone is unsure about the long-term commitment of bringing a new family member into their home, I highly recommend fostering. You won't regret it.
I am so happy that I followed my heart and brought these boys home. It was one of the best things I have ever done. They make the family complete. I love going over to the cage to look in on them while they sleep all cuddled up in a big ratty pile. They make my heart happy."
Thank you, Kristina, for adopting this lovely, bonded pair of rats. You have enriched their lives with all the care, games and socialization you provide every day. We are thrilled that Koda and Kenai found you and their new rat brothers, and we have no doubt they feel the same way. May you enjoy many more happy moments together.
Have you adopted an animal from the BC SPCA and want to share your joy with others? Submit your adoption story!