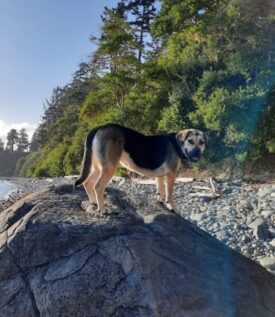 Many times, our canine companions inspire us to live life to its fullest and enjoy all the beauty nature has to offer.
When Thierra met Kobi at the BC SPCA Williams Lake & District Branch in July 2020, Thierra instantly felt connected to this bright-eyed pooch.
Trusting her instincts, Thierra brought Kobi back to her home in Vancouver. The two have been inseparable ever since.
Now, a few months later, we have received an update from Thierra on how Kobi is doing:
Kobi has settled into her new life in Vancouver very well. We have become each other's best friend.
Everyone who has met Kobi absolutely adores her. She is so, so happy!
Kobi loves the beach and any body of water, but she is also always happy to snuggle and sleep. She is perfect.
Thank you so much for connecting me with my sweet adventure buddy. Kobi is a wonderful pup and I am so lucky to have her.
Thank you, Thierra, for choosing adoption as your first option. We think Kobi is just as lucky to have you as her forever guardian. We adore hearing about your new life with your fun-loving pup. We wish you many more years together full of adventure and snuggles.
Have you adopted an animal from the BC SPCA and want to share your joy with others? Submit your adoption story!