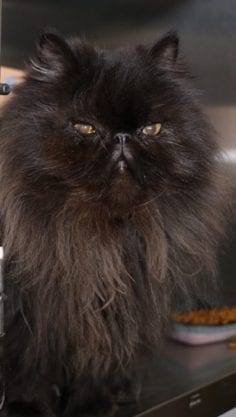 Kevin was eight years old when he turned up at the BC SPCA Chilliwack Branch on August 10, 2017. From the start he was a friendly, easy-going character.
Kevin had been surrendered because he was not using his litter box, but that didn't deter his new adoptive family. They saw what a special boy he was and  stuck with him until they found a solution they could all live with.
Read the update from his new family on how Kevin is doing now.
Kevin is a beautiful, black, nine-year-old Persian cat. He wiggles and wobbles and teeters and totters when he walks. It is very, very cute.
In the beginning it made us worry. We were concerned that his wonky walking was connected to a more serious problem. We had lots of tests done and even the best vets were not able to figure Kevin out.
In the end, the vets said that Kevin is a VERY happy cat and that this is most important. We wholeheartedly agreed.
Now when Kevin starts to wiggle at a quick pace down the hallway, the humans in the house call to each other: "Crazy cat run!" Everyone in the house rushes to delight and giggle in Kevin's devil-may-care shuffle.
Although the humans in the house were worried about Kevin's wonky gait, none of the animals in the house seemed to notice. Kevin lives with three cats and two dogs. We are a big animal family and Kevin fits right in.
When Kevin first arrived, he quickly bonded with our 11-year-old exotic shorthair named Ira. Ira is also a rescue. He had a tough start to life and as a result is shy and tentative about other people and animals.
Kevin did not let this stop him from befriending Ira. He came in and wiggled and wobbled his way right into Ira's heart. The two boys now spend large parts of their days lounging on stools in the kitchen near the food area.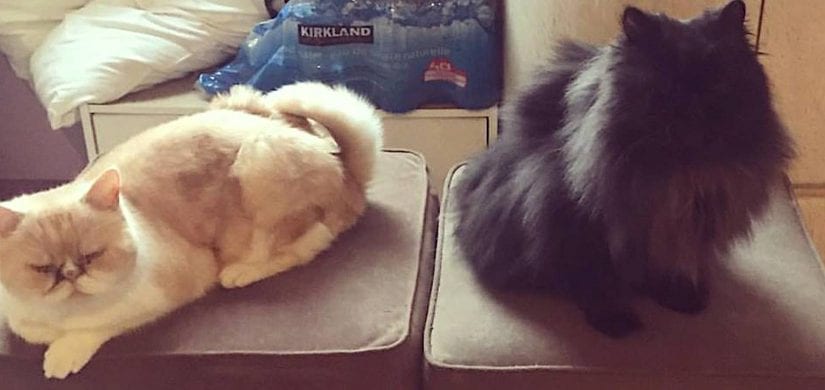 In the beginning, Kevin had the strange habit of pooing and peeing in the bathtub. We could not figure it out and it did not make for a very soothing atmosphere when the humans wanted to take a bath.
We added more litter boxes, we cleaned the litter boxes more regularly, we blocked off the bathroom. To no avail. Kevin always found a soft (and often white) surface to relieve himself. Finally, we tried lining the litter box with pee pads (no litter) and this seemed to do the trick.
Kevin doesn't have a 100% record even now. Sometimes he eschews the litter box with the pee pads and finds another strange spot to do his business, but who in the world has a 100% record with anything? We take the good with the not so good and with Kevin, the good far outweighs the poos in the bathtub.
One of the most amazing surprises about Kevin is that he walks great on leash. Whenever the weather is good we bring him out on walks with the dogs. When he gets tired, we put him in one of our strollers (specially tailored for cats and dogs) and he rolls out with the entire family.
Kevin brings our family (animals and humans alike) so much joy. We love his crazy cat run, we love the way it feels walking a cat through the neighbourhood, we love the way he cries like a baby bird when he wants to be picked up and cradled in your arms and stroked on his tummy.
I love walking into the kitchen in the middle of the night and seeing Kevin stretched out on the kitchen counter like a drunk frat boy. He is such a character! So full of comical behaviours and love, love, love.
And that's the definition of family. We take our family members with all their idiosyncrasies and their flaws, through all the ups and downs – because in the end, it's all about the love.
Thank you for giving this special fellow such a full and happy life. And thank you for making adoption your first option.