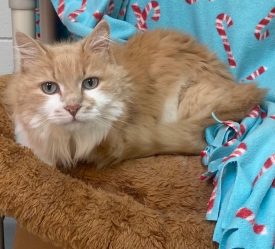 Adopting a senior pet is always a win-win.
Not only are they almost always immediately grateful to have a safe place to call their home, but they also fill our daily lives with joy.
Sandy found Joy at the BC SPCA Sunshine Coast Community Animal Centre in May 2021.
Even after learning that Joy had shown signs of kidney disease and would need some special medical attention, Sandy couldn't deny the pure love she felt as she bonded with her new sweet senior feline friend.
It has only been a month so far, but we have already received an update on how well Joy has settled in to her new home with Sandy:
We are the best match ever. Joy is 15 years old and just the sweetest girl.
Once I brought her home, Joy was a little nervous and very underweight. She was not eating. Now, I am so happy to say that is eating like a champ. She follows me around like a dog would.
When I adopted her, Joy showed early signs of kidney disease and was recovering from a UTI. I took her to the vet for a check up and will take her back for a recheck on her kidney disease in a couple of months once she is settled and gained more weight.
I named her Joy because she is my joy. She greets me at the door when I come home. I have numerous beds for her but she chooses to sleep on the mat beside my bed. She lulls me to sleep with her purring. What a gift she is.
For the rest of her days, Joy will be well loved and cared for. I am so happy to have her. Thank you, BC SPCA, for your wonderful service to these animals and matching me up with Joy.
Thank you, Sandy, for choosing to adopt a senior pet and for giving Joy the love, affection and attention she deserves. We are thrilled with how well she is doing already. Joy certainly knows you have her best interests at heart and will forever be grateful to you for rescuing her when she needed it most.
Have you adopted an animal from the BC SPCA and want to share your joy with others? Submit your adoption story!