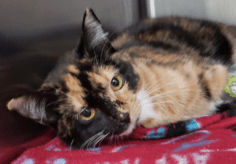 Even though life doesn't always go how we plan, it does tend to have a way of working out in ways we don't expect.
Amanda and her husband sincerely believed in their vision of having their beloved cat Jinx around for many more years once their baby was born.
However, Jinx was met with a truly unfortunate, early fate on June 1, 2019.
Horrendously distraught, Amanda and her husband knew in their hearts they wanted their baby to grow up with a feline sibling. With this goal in mind, they met Coco at the BC SPCA Chilliwack Branch four weeks after Jinx passed away.
With her playful spirit, Amanda and her husband instantly knew Coco would have a lot to bond over with their future son.
A few weeks later, Amanda has written to us with a tribute to Jinx and an update on how Coco has settled in:
In summer of 2009 we adopted a cheeky little torbie cat named Jinx from the BC SPCA Vancouver Branch. She had been named as such due to her bad luck, having been adopted and returned to the BC SPCA twice before.
In our 10 years with Jinx, we never figured out how it could be possible that Jinx gave us nothing but honest companionship, laughter and unconditional love. She was a best friend to both my husband and myself in unique ways, and made us into a family many years before we ever got married, bought our first home or even considered having a child.
With a baby on the way, we only assumed Jinx would remain an integral member of our evolving family. Unfortunately, this version of our family never came to be.
On June 1, 2019, we suddenly and unexpectedly said goodbye to Jinx due to an aggressive tumour she'd exhibited no symptoms of, until it burst. By then, she had a very slim chance of surviving surgery or even the recovery afterward. We had only ever striven to provide Jinx with the best life possible, and so we had to say to goodbye to our precious and most special girl.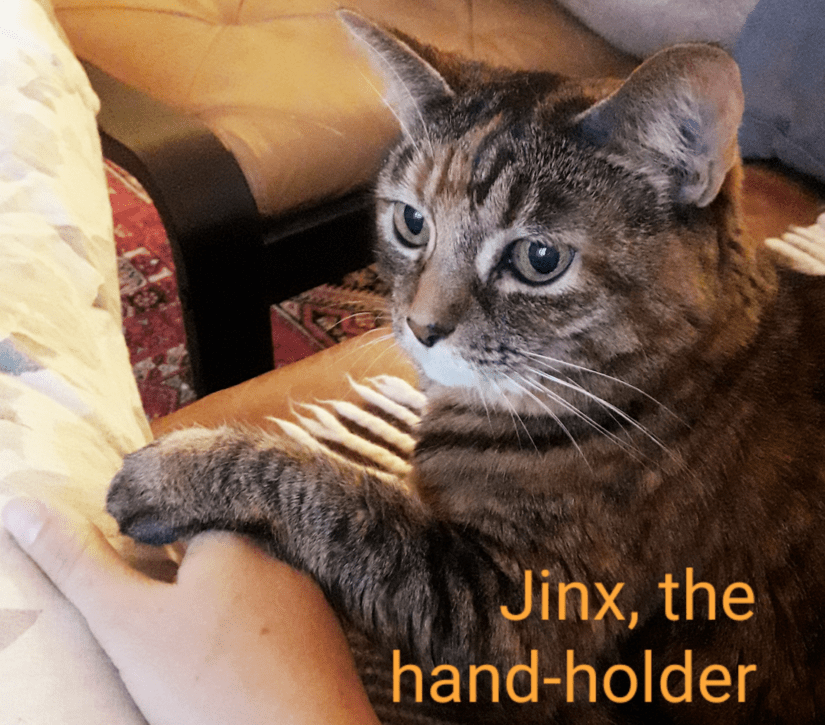 We were left reeling from the grief and shock of it all. We still had a baby on the way, yet the vision of our growing family had been shattered with the loss of Jinx—something we could not seem to reconcile.
After lots of consideration, we still wanted that vision of our family: us plus a child plus a feline friend. It would be an alternate version of the original plan, but that is life, and we were willing to adapt.
We kept our eye on the BC SPCA website for available cats, and one stood out to us—another cheeky little kitty, an eight-month-old calico. Coco was at the Chilliwack branch recovering from surgery, and after meeting her we knew she was a perfect match for us.
We haven't had Coco for long, but she has already revived the laughter in our home, repaired our family vision and healed our hearts.
We are thankful to the BC SPCA for enabling us with so many years of incomparable companionship with Jinx and now for the years to come with Coco. We are proud supporters and monthly donors, and look forward to sharing with our son the rewards of having a furry family member.
Thank you, Amanda, for sharing your story of your cherished Jinx. She lived a wonderful life full of affection with you and your husband—particularly through handholding!
We are endlessly thankful to supporters like you both for providing Jinx with so much love for the last 10 years, and now for adopting Coco into your family. We have no doubt she will be a wonderful big sister to your son over her lifetime.
Have you adopted an animal from the BC SPCA and want to share your joy with others? Submit your adoption story!