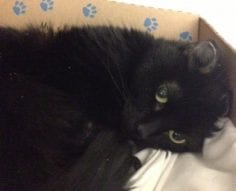 Jigsaw was a young one-year-old kitty when she came under the care of the BC SPCA North Cariboo District Branch. When she was brought in, she was roughed up and had lots of healing to do.
The poor little cutie had a broken jaw and multiple frostbite wounds, both old and new. She was missing the tips of her ears and parts of her toes and nose. But Jigsaw was still beautiful inside and out, and everyone fell in love as they got to know her.
As she took the next few months to heal, it was evident that this sweet girl was still very shy and needed time to build trust with others.
Jigsaw was looking for a quiet forever home without other cats, at least for the time being, during her healing process. Her new guardians would have to take extra gentle care with her and be attentive to her needs.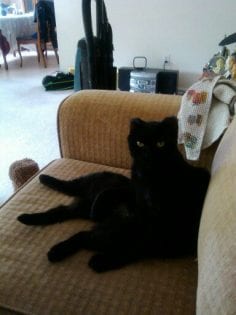 Once Jigsaw was well enough to be put up for adoption, it didn't take long for her to find her new forever family in April 2017. They wrote to tell us how well she has been doing:
I went to drop by the SPCA on a monday, and it turned out they were closed. The staff still let me in anyways. They introduced me to a somewhat temperamental and disfigured cat named Jigsaw. She had suffered some hard times in the past and had injuries to her ears, jaw and tail. For some reason I felt drawn to her, and I noticed she was also getting along with me too!
After some thought, I decided to adopt Jigsaw.
When I took her to my house, she was pretty angry for a couple of days! It took some time and patience, but once she adjusted she was happy and content!
She loves Tasty temptation treats, playing with her toy mice and snoozing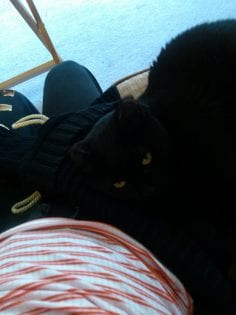 on the couch with me. Once in a while she likes to walk into my piano studio and check out what my piano students are doing while I'm teaching them. Jigsaw loves music! When I'm playing the piano, she'll wander in and listen. If the door to the piano room is closed while I'm practicing, she'll meow until I open it for her!
Jigsaw has turned out to be a very affectionate cat who just loves being loved!
We are so glad that Jigsaw ended up settling into her new forever home so well. It sounds like she has learned to come out of her shell and be her playful and affectionate self.
Thank you for being patient and taking the time to make her feel comfortable and loved, and for giving her a second chance at life by choosing adoption first.