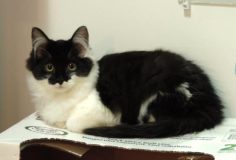 Thunder was found as a stray and brought in to the BC SPCA North Cariboo District Branch in the late summer of 2018.
Accompanied by her two siblings, at just ten weeks old Thunder was nothing more than an adorable ball of fluff. We found that she was a kitten whose trust had to be earned, but her loving purrs and affection were well worth the effort.
Finally, two months later in October, Ashley came to the shelter and locked eyes with Thunder.
Ashley simply couldn't resist bringing Thunder home:
Thunder is doing well and is fitting into her new home nicely. She is great at playing hide and seek!
Thunder is starting to get to know our family and she is finding out just how much love there is for her in our home.
Thank you, Ashley, for choosing adoption as your first option. With your care, Thunder's personality is already starting to blossom as she explores and bonds with her new family. We can tell that she feels comfortable in her very loving forever home.
Have you adopted an animal from the BC SPCA and want to share your joy with others? Submit your adoption story!