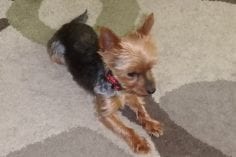 Jasmine came under the care of the BC SPCA North Cariboo District Branch when she was about two years old in July 2015.
Still being quite young, Jasmine was fairly anxious when left alone and was fearful in new situations, requiring slow introductions to others. However, once Jasmine  was comfortable, she came out of her shell and was very friendly and affectionate. It was clear that Jasmine was going to need patient guardians that could provide extra care and gentle handling.
Only a few days later, her new guardians found her and took her home. They sent us this update:
We were so lucky to find this sweet little girl at the Prince George SPCA animal shelter. She fits perfectly with our family and loves everyone. She even has a big brother, a Golden Retriever/Australian shepherd, who she fell utterly in love with.
We take her out many times a day to walk on the leash, and she is learning to sit and wait at the curb before we cross the street. She is very smart and is learning her manners, which is quite amazing since she only has been with us for a few weeks.
We let her loose to run and play with her big brother on the field across the street, and when we go home, she has learned to wait at the gate until we catch up with her.
If our little treasure was any sweeter she would be made of sugar.
She has become my husband's little shadow, and follows him everywhere. We only had to convince her to sleep in her own bed, but early in the morning when it is light, she is allowed to spend some time on the bed with us. Then we play and cuddle with her until it is time to get up.
She is perfectly housetrained, and is truly a delight to have around. Thank you so much for allowing us to adopt her, she found her forever home!
Wow, it's great to hear how well she has been doing and that she has a big brother to help show her the ropes. It sounds like the perfect type of environment she needed and we are so happy to hear how comfortable you've made her and how much fun she's having. Thank you for making her second chance at a forever home possible by making adoption your first choice.