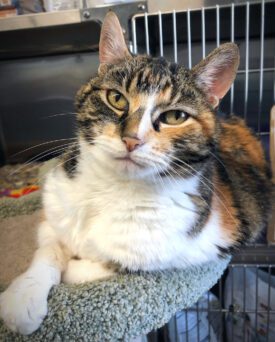 Jasmine was already 10 years old and experiencing the early stages of kidney disease when she was surrendered to the BC SPCA Shuswap Branch in the spring of 2019.
Though easily managed, her kidney needs along with her age appeared to be making her adoption an uneasy one. All we wanted was to find this loving lady a home to share her cuddles and purrs.
After a few months, we transferred Jasmine over to the BC SPCA Vancouver Branch, and we're glad we did. Here she met her future forever guardian, Sue, in August 2019.
Now, a year on from Jasmine's adoption, Sue has written to us with an affectionate update:
Today is a very special day. It is the one-year anniversary of our lovely Jasmine's adoption into her furever home.
She is a really lovely cat. She has fit in well from the beginning and she is very content here. She even has a little bed on the kitchen table for watching the birds.
Jasmine is quite attached to our Golden Retriever, Daisy. The two of them are inseparable. Jasmine purrs at Daisy and gives her many head butts of affection.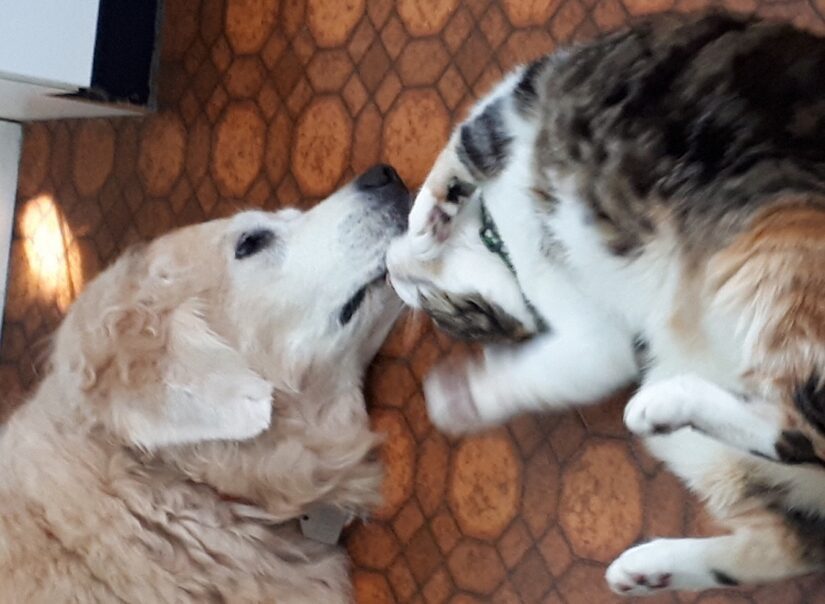 As soon as Jasmine hears me settle into my recliner to read, she immediately comes and jumps into my lap for a cuddle. She is so relaxed here that she even purrs while I clip her nails!
I can't say enough good things about Jasmine. She is just lovely and a very welcome addition to our family. If only more people knew all the benefits of adopting a senior animal.
Thank you, Sue, for choosing adoption as your first option and for giving Jasmine such a welcoming home for the rest of her senior years. It is certainly rare to hear of a cat who purrs while getting a manicure, but we're grateful to hear Jasmine feels so comfortable with you that she can't help it.
We wish you many more happy memories to come throughout Jasmine's golden years.
Have you adopted an animal from the BC SPCA and want to share your joy with others? Submit your adoption story!