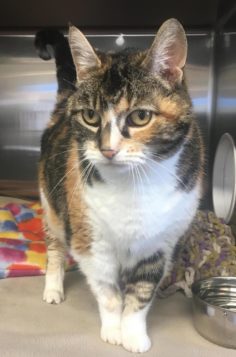 When we want to adopt a new animal, it can be difficult to predict how they will fit in with our current pets.
Sue and her partner knew they wanted to open their home to a sweet senior feline, Jasmine. They knew she needed some extra love and care because she had been diagnosed with early kidney disease while she was in the care of the BC SPCA Vancouver Branch.
When Sue brought Jasmine home in August 2019, her Golden Retriever, Daisy, immediately took to Jasmine. They have been inseparable ever since.
Now, Sue has sent us an update on just how happy they are with their pets, and how happy their pets are with each other:
Jasmine is so happy in her forever home! We adore her and she loves her Golden Retriever, Daisy.
Jasmine purrs and chirps, snuggles with us and even shares the fireplace with Daisy.
She is on canned food for her chronic kidney disease and she will be having her teeth cleaned in a week.
Thank you for taking such good care of her until we adopted her.
Thank you to you and your family, Sue, for adopting Jasmine. Thank you to each of you for welcoming her into your home and giving her all the cuddles she deserves. We are so grateful that you chose to adopt a senior kitty and we know she will be thankful to live out her retirement years as part of such a loving family.
Have you adopted an animal from the BC SPCA and want to share your joy with others? Submit your adoption story!