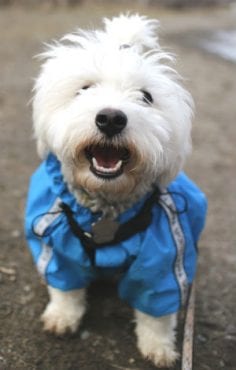 Ivory came into the care of the BC SPCA Vancouver Branch in October 2014 as a result of a cruelty investigation. Although still a young pup she had already experienced physical abuse, fear and neglect. Any prospective adopter would need to be ready to help her overcome this awful start in life, but happily the right match did come along. Now several years on Ivory's adoptive family has shared this update:
Wylie, formerly Ivory, is an amazing little dog who is now a member of our family. She is such a love. She is a gentle spirit. If there is a puppy or dog that is a bit scared in the dog park Wylie is going to befriend them. She is determined and she has such a gentle nature about her. She will lay down a few feet from the dog and slowly get closer and closer and eventually they just give in to her charms.
My husband likes to go on long walks and Wylie lives to be with him on the walks. When I drop her off at his dog-friendly office all the staff run out and sit on the floor just to pet her and feel the love she shares so freely. It is amazing to see how many friends she has made. Wylie has had three different people make dog treats just for her. She has other people who don't even have a dog buying dog treats just to give to her. She wraps the world around her paw. She is pure love and she shares that with everyone that crosses her path.
While driving on the highway we had to come to a sudden stop from 90km per hour. We had Wylie in a safety restraint attached to a seat belt and if she wasn't wearing it she would have sustained injuries. We wouldn't be having fun walks with her right now if it wasn't for that restraint that saved her. Dogs need seat belts too.
The other day I fell on some ice while taking Wylie out for her potty break. Well when I hit down hard on the ice I let go of the leash but it didn't matter as she rushed up to me and starting licking my hand where I was bleeding. She is always trying to take care of us and it is so heartwarming to be on the end of that love.
Wylie has had a fun year and a few months since we have adopted her. She has hiked up to the top of Multnomah Falls. She has run on the pacific beaches and camped by the ocean in a tent while the lighthouse cast its beam over our head. She has swam like a pro and just loves to head out on the paddle board we share as we explore the lake. She also loves to swim in the snow and even face wash herself in it. It is the strangest thing to watch but you smile because you know she is so happy.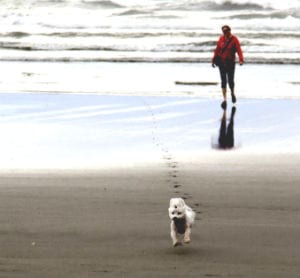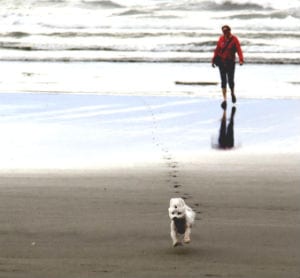 Wylie is so easy going until it comes to her food. Don't mess with her food. She loves a certain brand and we were told when you cross the border you can't take food across for your dog. We tried to purchase her brand but that wasn't possible and the type we bought her was not up to snuff. She howled at her dish, she scrubbed her nose on the carpet to let us know it smelled foul and she even buried the dish with sand at the beach. She is the Gordon Ramsay of dogs when it comes to her food. We ended up feeding her chicken breasts until we found a dog food she would eat.
When getting a BC SPCA dog you have to give them extra love to make up for what they endured in their past. It is sad that they had to endure something horrible but isn't it wonderful that there are people doing their best to help defenseless animals. The BC SPCA was amazing in explaining what her issues were so we could be prepared to overcome them. In the past, Wylie was abused for eating, so in the beginning I would sit on the floor and pet her while she ate. I would tell her what an amazing little pup she was so she could learn that she is safe to eat and in fact she is encouraged to eat. She still has a bit of that now from time to time and I just get on the floor and pet her like I did in the beginning and she will relax. Wylie also came with separation anxiety. Originally, I would act so excited to see her when I came home and I learned you have to be calm and this has helped her greatly. Deep down I am so excited to see her but as this is what is best for her, I will do it.
We can't thank the people enough at the BC SPCA for looking after our little our little pup and for letting provide her forever home. She is not our dog but a member of our family. She has an amazing spirit to her and because of her nature everyone that crosses her path is her new best friend. Because of the BC SPCA she not only got a loving home but she will have many fun and exciting adventures in her life. For people thinking about taking on a dog please do your homework and know that you can provide a home that a can dog can flourish in or else it isn't fair to the dog. Thank you very much!
We thank you! What a wonderful outcome for Wylie after such a rough start in life and we are so grateful to you for making adoption your first option and for turning Wylie's life around.