When Lentil came into our care at the BC SPCA Kelowna Community Animal Centre in February 2022, we soon discovered just how much purrsonality she had.
This meant we needed to find a guardian who would understand Lentil's boundaries when it came to affection and encourage her intense play sessions.
It turned out that Lentil's future guardian, Mary, was ready for some spice in her life and more than willing to accept and love Lentil for all her quirks.
Now, Lentil has a beautiful new name—Islay—and her human best friend for life. Just a week into adopting Islay, Mary has written to us with an update:
"Thank you to all the staff at the BC SPCA Kelowna Community Animal Centre who made the adoption process such a great experience. I wanted to share how Lentil is doing in her new home.
Her new name is Islay (pronounced ai-luh), a traditional Scottish Gaelic name meaning 'island'.
The day I brought Islay home, after thoroughly exploring and approving of her new surroundings, she jumped up on my lap. Immediately, Islay requested a nice chin rub and neck massage and followed that up with a cozy lap nap.
When she woke up, Islay enjoyed a lively round of play with her new toys. Her favourite games include chasing a kitty laser light, balls and a variety of toy mice with feather tails.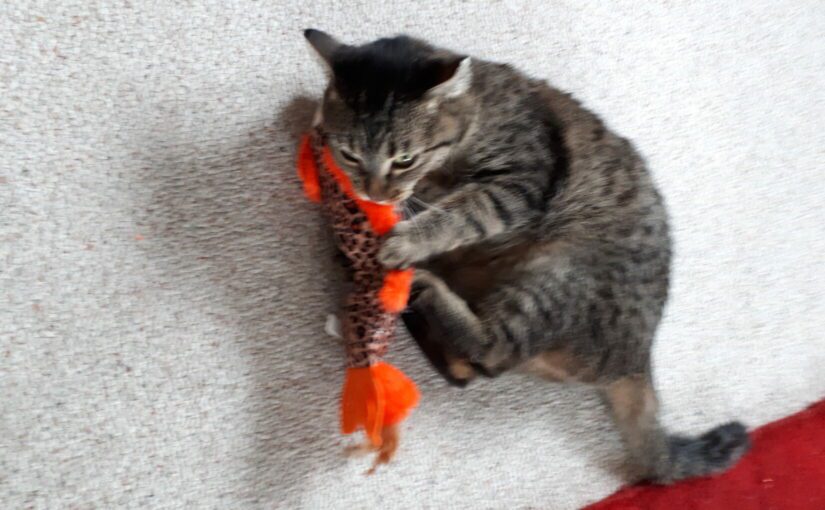 That first evening, she curled up beside me on the bed and slept there throughout the night.
This spicy gal has turned into a total snuggle bug who has stolen my heart. Islay is happy and content and shows no signs of aggression.
We are a perfect match and I couldn't be happier with this amazing girl."
Thank you, Mary, for choosing adoption as your first option. We are thrilled that Islay met her match in you. Your update proves just how valuable finding the right environment can be for our feline friends. Evidently, Islay is incredibly comfortable with you and in her new home. Thank you for giving Islay all the play and love she deserves.
Have you adopted an animal from the BC SPCA and want to share your joy with others? Submit your adoption story!
Resources for cat guardians
How do I know if my cat loves me?