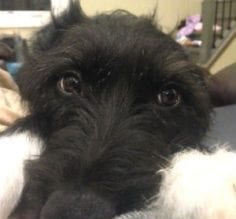 In early October 2013 Iris left unfortunate circumstances and came into the care of the BC SPCA South Peace Branch. To say her life life then changed for the better is putting it mildly, as this letter from her adoptive family reveals:
Sweet and quirky Iris came to live with our family in October of 2013. Just three weeks prior, we lost our beloved dog, Axle and our family was devastated. His loss was felt so deeply in our home, as he was our autistic son's protector and they shared a deep love for one another. We talked of getting another large dog but just couldn't imagine trying to fill Axle's boots and decided we needed more time.
Three weeks later, on a Friday afternoon, I was driving to pick up a few groceries, when I decided to take a left hand turn toward the BC SPCA South Peace Branch. I knew I wanted to help our branch any way I could and had heard that they required foster families for dogs on weekends. This seemed like a perfect opportunity to me and a perfect balance between helping and taking the plunge toward adopting.
When I asked for a dog that was good with children, the staff immediately lit up – they said, "Oh yes, you can take Iris". When they brought her to me, I almost died laughing. This dog was the most unique looking creature, with her crazy, wiry hair, her beard, her two white "boots", and a huge smile on her face. Yes, a smile – complete with teeth! I instantly loved her.
It was a huge adjustment for Iris to come with me. She was afraid of my vehicle. She was afraid of my home. She was so slim and light, it was easy for me to carry her in both cases, but I had to wonder what kind of life had made her so afraid of such usual joys.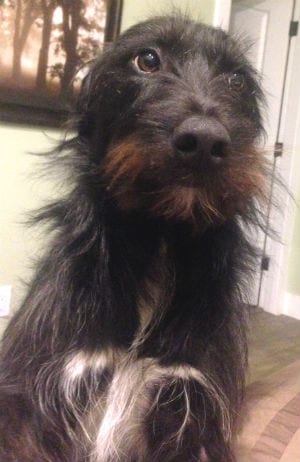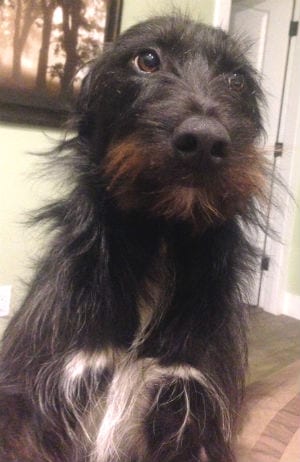 When I picked my kids up from school, they could not believe their eyes when they saw Iris in the back of my SUV. They were ecstatic! When my husband arrived home from work, she greeted him with a full set of teeth and he literally jumped back in surprise. The weekend with Iris went great. She was fantastic with the kids and our cock-a-poo, Gertie. It was nice to see Gertie with another dog to play with. Iris was a dream come true for our family and there was no way she was heading back to the BC SPCA on Monday morning. We officially adopted her that week and have never looked back.
Recently, I posted a "thank you" note on the BC SPCA South Peace Branch Facebook page. My post was spotted by a young lady who had known Iris in her former life. She recognized Iris and was relieved and happy to see that she was doing so well and spoke to me about the struggles she had faced with her former family. Iris was neglected, left unfed and often physically abused. She lived her life on a chain or in a crate, often residing in her own waste. Fortunately, this young lady had the chance to care for Iris from time to time and was able to convince the owners to surrender her for a better life. She had a few pictures of Iris, which she shared with me. As sad as I was to hear of Iris' history, I was even more grateful to have had the opportunity to adopt her.
Iris is full of life. She runs at top speed everywhere she goes. She loves to pull Gertie around by the ear. She aggressively asks to be pet by forcing her head under our hands and staring up at us with her big brown eyes. She smiles at us daily. She still doesn't like to get in the car and we have carry her in (once we get a hold of her). She sneaks a sleep on the couch every day while we are at work. She chases our cats every chance she gets. She "protects" our family from neighborhood dogs. She is the best thing that could have happened to us and we love her so much. In many ways, she reminds me of Axle. I have to believe that I was meant to take that left hand turn because she was simply meant for our family. A huge thank you to the BC SPCA South Peace Branch for bringing Iris into our lives.
We thank you for making adoption your first option and for letting us know that Iris is now happy well loved. We wish you many more years of fun together