When we welcome a new animal into our lives, we want to make them as comfortable as possible.
Sometimes it can take a while for our new pet to gain confidence in their new environment, but for others, it doesn't take long for them to walk around like they own the place—and we love to see it.
This is precisely what happened when Sonja brought home Frida after adopting her from the BC SPCA East Kootenay Community Animal Centre in January 2022.
It has only been weeks since adopting Frida, but Sonja is already head over heels for her new feline friend. She has written to us with an update to share:
"Frida was rescued with her brothers and sisters from the community I work for.
She came into my life just a few short months after losing my cat of 17 years. At first, I was a bit apprehensive to adopt another cat, but she has really helped heal my grieving heart.
Now that Frida has warmed up to her space, she is a zippy, playful and talkative cat.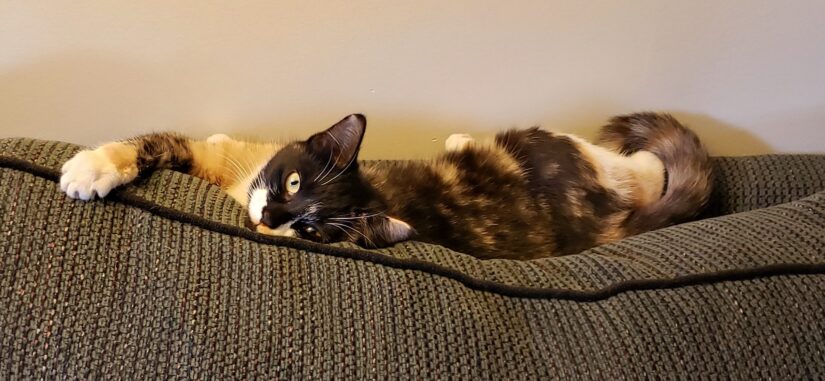 For a cat who hasn't had much experience with people, she showed her trust early, curling right up into my lap the first night she was home. I'm so impressed with how quickly she has adjusted, and the BC SPCA made me feel well supported through the process."
Thank you, Sonja, for adopting Frida and for opening your heart and home to another kitty. We know it can take a lot of time for a grieving heart to heal. Having a new cat companion to share your life with can certainly help the process and make you feel the love again. We're so happy to see how much trust Frida has already built with you! We look forward to hearing more stories as she grows up in your care.
Have you adopted an animal from the BC SPCA and want to share your joy with others? Submit your adoption story!