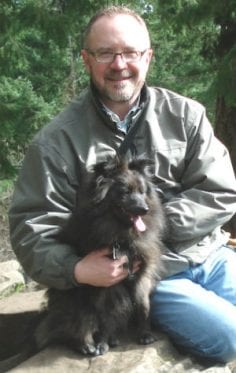 In August 2010 Freddie came into the care of the BC SPCA Victoria Branch. He had been living a horrible existence in a puppy mill but now had the chance to live a much better life with his forever family and they have shared this update:
As fall 2010 came around, my partner and I turned to thoughts of our dear girl, Jessie, a mixed breed beauty found at the pound, who blessed our lives for almost nineteen years.
In a fall two years earlier, we had had to let Jessie go, and while it was a deserved release for her, we took a long time healing. Then, one September night, we saw Freddie's face looking out at us from the BC SPCA Victoria Branch web page. Les said, "Come look at this one, he's like a wee fox." I looked, we both looked, at the thin, terrified little dog described as a "Pomeranian mix". (Freddie actually turned out to be a pure-bred Spitz, a large Pomeranian, according to two DNA tests, but that's another story.)
Rescued from a puppy mill on the B.C. mainland, Freddie had been brought to Victoria with the Drive for Lives program. That night we first saw him, Les said, "Let's go see if he's still there in the morning. He's so sweet, I'm sure someone has adopted him already." Next morning, we visited the BC SPCA shelter in Victoria, and couldn't find Freddie (Frederick) anywhere. We were about to leave when Les asked an attendant if she knew his whereabouts. "Oh, Frederick! He's here, just come back and see." We returned to a kennel we had passed by, and at the sound of the door opening and the woman's voice, out came Freddie.
He then reeled back at seeing us and stood shivering, refusing to look up, as if resigned to fate. I held him in my arms and we took him outside. Freddie reacted to the wind blowing his hair, to birds overhead and cars passing by, as if he had never felt or seen such things before. To this day he is terrified of small, enclosed spaces. We're pretty sure we know why. And though after we brought Freddie home he sat in the corner and shook for an hour, we let him into the garden. He rustled under the shrubbery, then came running out at us, astonished, as if to say, "You mean, this is all for me?" Yes, darling boy, this is all for you.
It has taken all of the past four years to teach Freddie not just to trust, but to play, to be at ease, to not fear that a meal is his last, to truly be at home in his forever home. The little dog rescued from a Kamloops puppy mill has been to Yosemite National Park and Crater Lake, to San Francisco and the Oregon coast and the Sierra Nevada Mountains. He has had several of his dad Grant's books dedicated to him (it's only fair – how patiently he will sit at my feet while I struggle to correct galley proofs, lightening the burden as only a dog can do). He is loved by friends and family all over the world. Above all, Freddie has become the dog he was meant to be: confident, curious, trusting, and giving far more love than he is ever given, though he is loved as much as any dog was. Freddie's is a success story, thanks to a chain of compassionate people we may never know, all of whom contributed to his rescue and to his blessing in our lives. We say thank you every day, and we're saying it also for him.
We are also adding our thanks: thanks to Les and Grant for making adoption their first option and for giving Freddie the caring, loving home that he deserves.