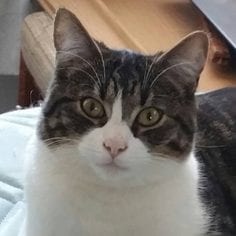 Freddie was born into the care of the Kelowna BC SPCA Branch in March 2016. After he was all grown up and ready to find his perfect match, Freddie was put up for adoption to find his forever home.
Eventually, his perfect match walked through the door, and Freddie knew they were the ones for him before they even decided themselves! He was adopted on January 31, 2017 and now lives with fellow feline siblings and a cat savvy guardian who even set up a Facebook account for him.
His guardian recently sent us a note on the story of how he came to adopt Freddie and how he has been so far since then: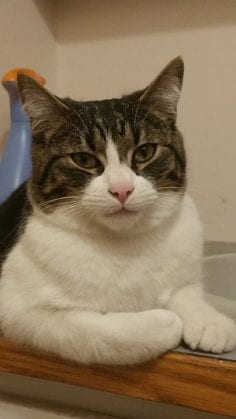 I had never before adopted a cat, so this was a new experience for me. The last few cats that have lived with me were all abandoned by their previous owners so I actually didn't adopt them, they chose and adopted me.
My oldest one was left behind by people who took her collar off and moved out in the middle of the night. I have no idea how old she was, but she had been spayed and declawed, so they had spent some money on her, leaving me to assume that they would have had her for a few years after investing in her. I had no idea what her name was and when asked, she said "meow", so the name stuck. She waited on their porch for weeks for them to return, but they never did so she moved in with me. When I moved, of course I brought her with me and we enjoyed 17 years of each other's company. I am sure she must have been over 20 years old before she crossed the Rainbow Bridge just over a year ago.
The next two were left behind by a family who moved to Edmonton and they couldn't catch them outside before they left, so I took them in and had them spayed and neutered and they are quite content to be indoor cats. A fellow and his girlfriend that they were boarding with also left two cats behind. A neighbour across the alley adopted one of them and the other one (Glen) adopted me and was just as happy to become an indoor cat. I had him neutered as well and we were very close for five years. Then one night at bedtime, I could see that he was not well and had no interest in food or water. I took him to the vet and learned that he had a urinary blockage, so I left him, fully expecting that he would be coming back home the next day. They called later in the day to tell me that they tried twice to put a catheter in, and on the second attempt, it pierced the bladder wall and now there was no choice but to put him to sleep. I was totally devastated! They asked if I wanted to come in the morning to say goodbye and I said no, if he was still sedated, don't let him come out of the sedation. I didn't want him to suffer. This was the middle of January. On the 31st, I saw the ad for Freddie posted by the BC SPCA, and he reminded me of Glen.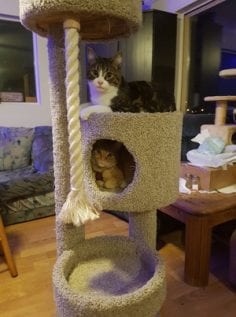 I decided to go and meet him, not at all sure if I was ready to get another cat, but was missing Glen so much that I at least I wanted to go and look. After going into his room and becoming acquainted, my brother Clinton and I went to the desk to ask the price. While I was talking to the receptionist, my brother wanted to go in and see him again, but was told that there were a couple of other people in the room and that he would have to wait until they left. While I was still at reception, Clinton told me to look in the window and tell him what I noticed. Freddie was totally ignoring the people in the room and was focused on my brother and I, not just with his eyes, but his face concentrated on us as if to say, "I choose these humans!"
I took him home that day and he was met with a cool reception from the other cats, who all thought he wasn't Glen, but an imposter. A bit of growling and hissing ensued from them but Freddie's attitude was just "whatever!" After a week, they decided that he was okay, and now they play and sleep together. Freddie has fit right in and in many ways has developed the same characteristics that Glen had. I am so pleased to have found him, and know he has a safe forever home here.
What a sweet story. We're so sorry about the passing of Meow and Glen, but are glad to hear that Freddie has brought so much happiness into your home – it sounds like you all make a great family. Thank you for providing a wonderful forever home for Freddie, and for making adoption your first choice.