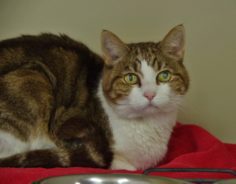 Michelle's children were very perceptive when they recognized that she needed a companion.
Not just any company would do. They knew Michelle needed the companionship that only a sweet senior feline could give her.
For Mother's Day in 2017, Michelle's children gifted her with Fiona, a loving senior kitizen who fell right into her lap. Michelle took one look into Fiona's big yellow-green eyes and was instantly enamoured.
A couple of years later, Michelle has written to us with their story:
In 2017, my son found Fiona at the BC SPCA Victoria Branch for me as a Mother's Day gift.
We both knew Fiona had health issues and she was an elderly cat, but I couldn't let her spend her retirement years in a shelter or worse.
At first, Fiona was a little reluctant to her new home, but she eventually settled in and traveled with me on occasion. She turned out to be a wonderful traveler and was very good in the vehicle.
In April 2018, Fiona and I moved to Edmonton because I had found work there. She was always full of mischief and very playful. Fiona was a delight to watch race around the apartment and play with her toys—always with a gleam in her eye. Fiona's favourite pastime was watching the pigeons on the balcony.
Unfortunately, Fiona's health issues became very serious in the past two months. Her hips were starting to give her issues and her sinus problems became worse.
Sadly, Fiona was not able to bounce back from her multiplying health issues. We don't know her exact age, but we believe it was between 12 to 15 years old.
Fiona gave me a great deal of pleasure and laughter. She was my little buddy for many wonderful months.
Thank you, Michelle, and thank you to your children, for choosing adoption as your first option. We are so grateful you chose to give a home to a senior kitty in need. We can see that you shared some lovely time together and we are happy that you shared some of your fond memories with us. Thank you for making Fiona so comfortable in her retirement years.
Have you adopted an animal from the BC SPCA and want to share your joy with others? Submit your adoption story!