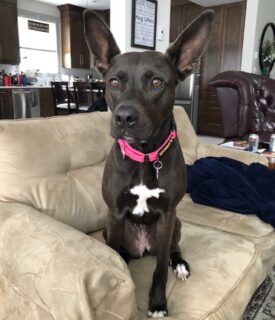 When adding a dog to the family, all members must be prepared for a bit of a lifestyle change. Whether this means going out for walks, making time for play or attentive behavioural training.
Kainiel was prepared to make this commitment when he adopted Ellie from the BC SPCA Vancouver Branch in May 2019.
Even though Ellie had a tendency to react around other dogs, she was a total sweetheart. It was clear that she wanted to make her new guardians proud.
It has now been over a year since Ellie's adoption, and Kainiel has written to us to let us know how hard they have been working with Ellie to improve her social skills.
Here is his update:
We adopted Ellie in 2019 and she settled in right away. She has been such a joy and has provided us with so many laughs. She loves with cuddling us and sneaking into our bed in the middle of the night.
Ellie struggles with dog reactivity. We have been working so hard with her over the past year. We are very proud of her progress.
Ellie really is the sweetest angel!
Thank you, Kainiel, for adopting Ellie into your family. She looks so content and grateful to be in her forever home. Thank you for taking the time to make Ellie more comfortable in her surroundings and for working so hard with her over the past year. We wish you many more happy years together.
Have you adopted an animal from the BC SPCA and want to share your joy with others? Submit your adoption story!