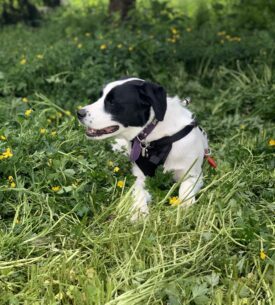 When we have to say goodbye to our senior pets, there's no doubt they leave a huge hole in our hearts.
It's only natural to wish to introduce another animal into our lives.
Karla and her family were heartbroken when they lost their dog Whiskey, and wanted nothing more than to share their home with another furry friend.
After a couple of very difficult months, Karla searched everywhere for a puppy. Once Karla decided that adoption was the right choice for her family, it was only a matter of days before she met Ellie in October 2019 at the BC SPCA Vancouver Branch.
Now, over a year later, Karla has written to us with an update on her new best friend:
I adopted Ellie about two months after losing our 13-year-old dog, Whiskey.
Those two months were so lonely. I had hit a new low in my life. Even though I was living with my family, we all severely missed having a furry friend around.
I went through a whole process in those two months. I was so desperate to get a dog that I checked everywhere—Kijiji, Craigslist, the BC SPCA and so on.
At one point I found some pups available for purchase up in Kamloops. We went to have a look at them and even settled on getting one. The dog breeder told us we could take home the pup that day, but something inside me told me I shouldn't.
Growing up, my dad had always I taught me that adopting was the best option. I believed that wholeheartedly up until this point. I couldn't go through with the purchase and break my moral code.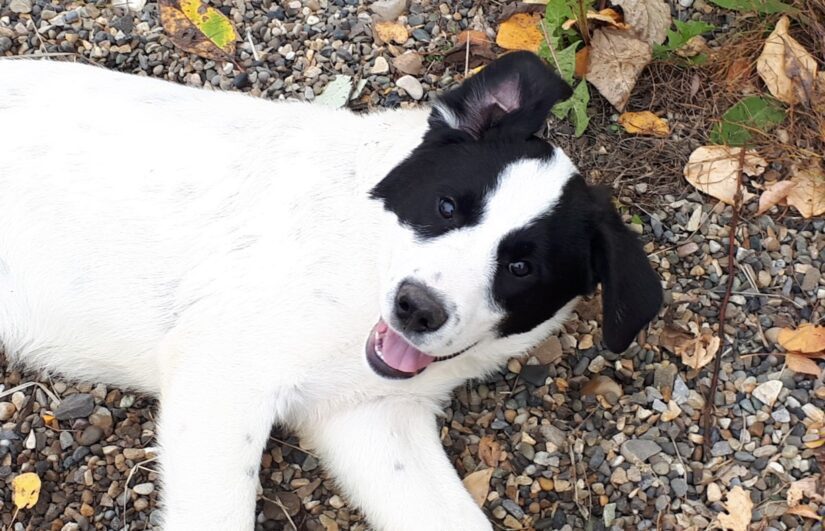 I got back home without the puppy and broke down into tears. I was so torn between adopting and buying. The longing and loneliness without a dog really got to me.
I knew in my heart it was right to adopt and decided that night that I would wait even if it would take months for an adoptable puppy.
About a week later, Ellie was up for adoption. It wasn't just her available, but her whole litter—there were seven of them available at the BC SPCA Vancouver Branch.
The moment I saw Ellie and her litter I knew I had to go to the shelter and adopt one of them before they were all adopted. The next day, I arrived at the shelter the second they opened.
My parents and I were the first people there. Then, we met Ellie. My mom chose her right away. She fell in love with Ellie's vibrant black spots on her white fur coat. We applied to adopt her on the spot and were approved.
Ellie was so shy at the shelter but, once we brought her home, her personality broke out and she shocked us with how silly and outgoing she was. It's safe to say we're no longer lonely and the house is never quiet anymore.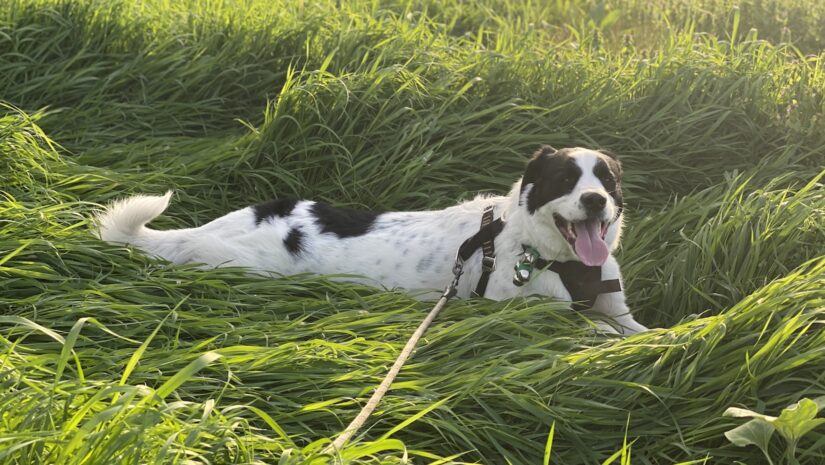 Ellie keeps us on our toes and she has grown into a tall but beautiful beast. She is extremely energetic and loves when her favourite people come to visit her, so we are still working on her behaviour when guests come over. She just wants to chat up a storm when someone enters the room!
A new obstacle in her life, and ours, is some allergy issues. Sadly, Ellie has had some terrible ear infections likely due to allergies in the past six months. We have been working diligently with a vet and now a specialist, and Ellie has handled it like a champ.
Ellie is incredibly smart and we learn something new about her everyday. She has challenged all of us in so many ways. Through adopting her, we have learned to be more patient.
We're all grateful for her every day. I'm extremely thankful to the BC SPCA for giving me my best friend who I get to love, come home to and do everything with.
We're grateful to you and your family, Karla, for adopting Ellie. Thank you for listening to your gut and choosing adoption. We can see that Ellie now has her forever home with her loving and committed family. We cannot wait to hear about more adventures you share over the years to come.
Have you adopted an animal from the BC SPCA and want to share your joy with others? Submit your adoption story!