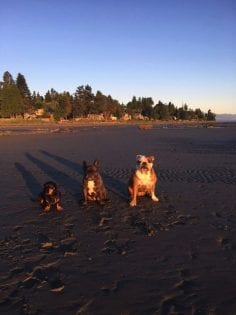 Ella came under the care of the BC SPCA Maple Ridge Branch on Jun. 29, 2017. Her previous guardian no longer had time to take care of her and give her the attention she needed to stay happy and content. She was now looking for her new forever home.
When this cute British bulldog came to the branch, we quickly learned how friendly and easygoing she was.
Ella was low-maintenance and loved to have company around her. She could play all day and was very affectionate to everyone. It was no surprise to us how great she was with children with her sweet nature. Her kindness extended to other dogs as well, except maybe when she didn't want to share her toys.
Luckily, it only took a week for her forever guardian to come to the shelter and take her home. Her guardian wrote us this update:
Ella (now Stella) came into our lives on July 6, 2017 and although it has only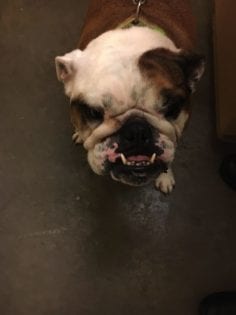 been a few weeks she has changed our lives for the better.
Our two other dogs were not sure of this larger lady coming into the family but after a few days they bonded and now are one happy pack! Bronson (French Bulldog) and Stella now chase each other all day long in our yard and especially at the beach.
Turns out Stella loves the ocean. First day we brought her there she ran and ran on the sand and into the water. She has lost 8kgs already and is becoming quite the fit little girl.
She greets us at the door when we come home from work and wiggles all over with excitement. She is such a sweet girl and we are so lucky to have her in our lives.
I know we hit the jackpot and I am thinking that she may feel the same. Thank you for letting us adopt her!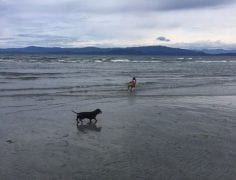 That is amazing to hear Stella is fitting in so well with the rest of her family. We are so happy that you are taking great care of her health as well as her happiness, though both go hand-in-hand.
It sounds like she is having a blast with plenty of things to do and games to play. Thank you so much for bringing her into the pack and giving her the forever home she deserves by making adoption your first option.