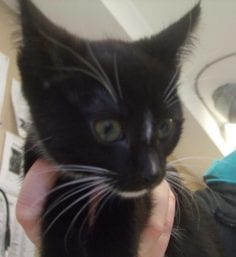 Edie and her litter mates were only a couple of weeks old when they were found without their mother and brought in to the BC SPCA Kelowna Branch.
It didn't take long for Edie's personality to shine through as she began to grow. While in our care, we saw that she loved playing with her toys and gazing out the window, basking in the Okanagan sunshine.
Three months later, Allison and her family came to the shelter to view adoptable cats. Edie instantly won over the heart of Allison's daughter, and the rest of the family soon followed suit.
Having now settled into her home for a full year, we have an update from Edie's family:
Edie has changed my family and me so much. She gets into a lot of trouble and we can't help but laugh at her cuteness. She is getting so big since we adopted her from the SPCA.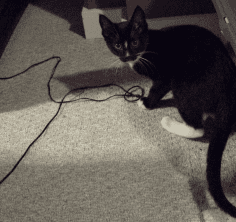 We would have never got her if it weren't for my eldest daughter. She has always wanted a cat and she begged for a long time. We had to say yes.
That day we walked into the shelter, my daughter asked the staff, "Please, can you put that kitten on hold?" We came back the next day and adopted her.
Edie knew that she was going to live the best life with her new family. While we were driving home from the shelter, we heard tiny meows coming from the kennel she was in.
She was so excited to explore her new home. Edie has not changed a bit—well, maybe a little, with getting into trouble. Otherwise, she is still that very playful and cuddly cat we all wanted.
Edie has made an excellent addition to our family thanks to the BC SPCA.
Thank you for making adoption your first option, and for forgiving Edie when she gets into trouble!