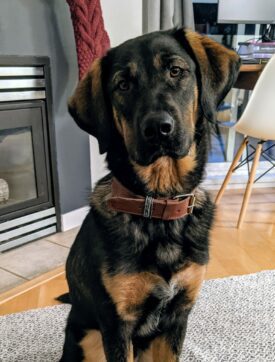 When adopting a pet, they become an integral member of the family.
This means that we make the commitment to them to give them the best life we possibly can. Sometimes, we also experience trauma with them—but this can make the bond even stronger.
When Amanda and her husband adopted Eddie from the BC SPCA Abbotsford Community Animal Centre in December 2020, they were so incredibly excited that they had met their pup. They were also prepared for any challenges that came their way.
After a bit of a rocky journey, Eddie has found a whole new appreciation for his guardians, and the love between the three of them is stronger than ever.
Now, a year after adopting Eddie, Amanda has shared their story:
My husband and I grew up with dogs so we couldn't wait to adopt our own.
Three weeks after our Mexican wedding and one week into our COVID quarantine we found Eddie, an 11-month-old pup, on the BC SPCA website. We immediately fell in love with the handsome goofball we saw in the photos.
We applied to adopt Eddie and were matched with him a day or two later. Unfortunately, we still had a week of quarantine left so we couldn't come to get him right away. The BC SPCA wanted him to go to his forever home sooner than we were able to pick him up, so they selected another family for Eddie.
A few days later, one day before we finished our quarantine, we got the call from the BC SPCA that the other plan had fallen through. Eddie was ours!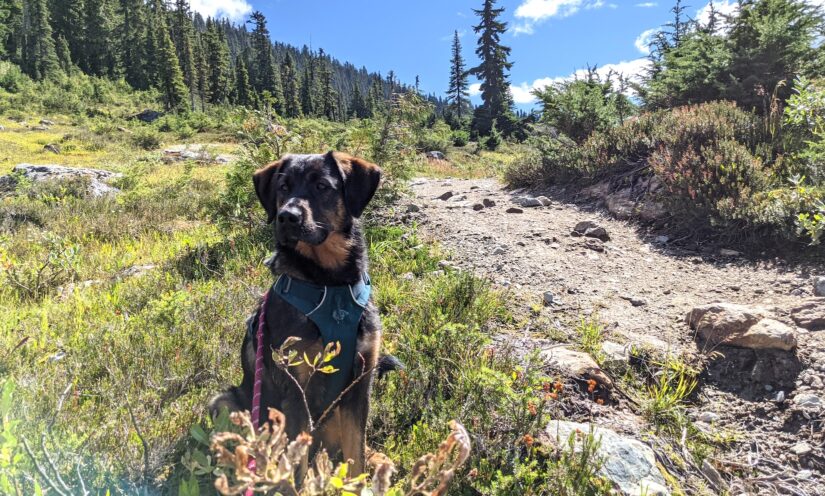 When we got Eddie home, he was a sweet, perfectly house-trained pup who hated snuggles. He couldn't eat if he thought anyone was watching, was protective of his food and toys, needed hours of exercise every day and had a whole bunch of unknown food allergies.
For months, we were at the vet and dermatologist every other week, treating his ear infections and getting to the bottom of his allergies. We finally found the perfect combination of crocodile, pumpkin and chickpeas that eased his allergy symptoms.
As soon as we thought our vet visits were going to finally become an annual schedule, Eddie ruptured the cruciate ligament in his left hind leg. Everything came to a screeching halt—no more walks or hikes, no playing and no sleeping alone.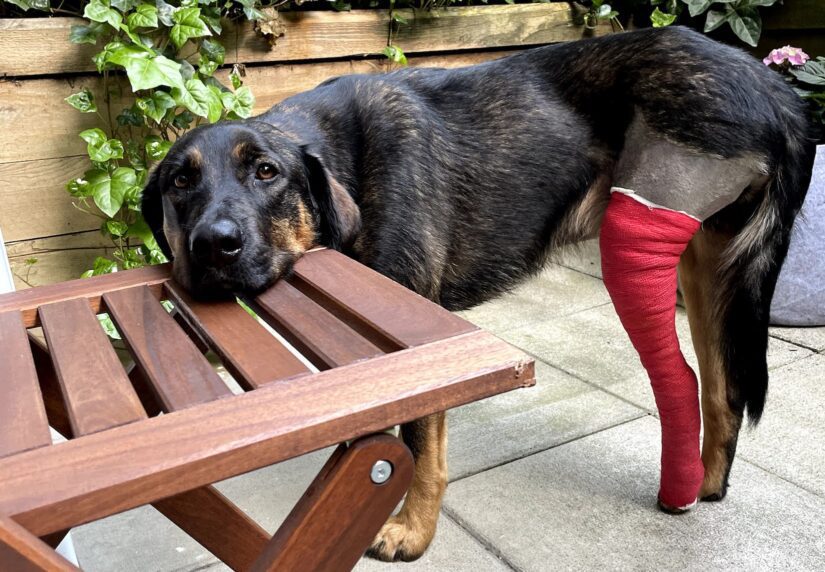 Eddie had such a low pain tolerance that he had to be heavily medicated to control his pain and severe anxiety. He needed to be monitored round the clock for three full weeks. It was an exhausting and traumatic time for the three of us.
After three months of slow and steady healing, Eddie was cleared to return to normal activities. We eased him back into the mountains, let him swim as much as his water-loving heart desired and reunited him with his best doggie friends.
We truly believe Eddie knows how hard we fought for him. His trust and love for us grew dramatically during his recovery. When we carried him up and down the stairs, he would rest his chin on our shoulder and give us the sweetest look. Now, his favourite part of the evenings is having snuggles on our bed.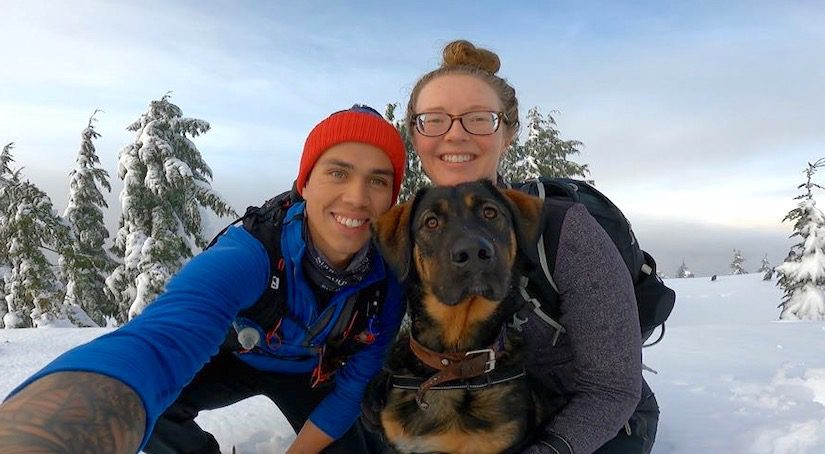 It's now a year after his adoption. Our family has moved from a little condo in Vancouver to a big house in Trail. Here, Eddie has a fenced front and backyard to enjoy as well as endless snowy trails for him to explore. Although he's two years old now, he still gets his puppy energy when he gets to run wild in the snow.
Caring for Eddie hasn't always been easy, but we wouldn't trade him for the world. He is our loyal protector, adventure partner and constant companion. We love this sweet boy fiercely.
We can't recommend adopting an animal from the BC SPCA enough. Although some animals may have medical issues or past trauma, the love they give when they realize you are their forever home is indescribable.
Thank you, Amanda, to you and your husband for adopting Eddie. The level of devotion you have both given him over the past year is incredibly heartwarming. Eddie is certainly a smart boy and knows how much you both love him. We are glad to hear that he is back to his happy, healthy self and that you have gone back to enjoying all your adventures together.
Have you adopted an animal from the BC SPCA and want to share your joy with others? Submit your adoption story!