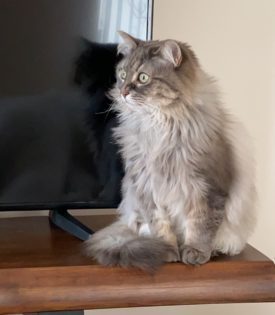 When we connect with our animals, the bond can be instant and undeniable.
This happened for Janelle when she first met Dumpling at the BC SPCA Richmond Education & Adoption Centre back in January 2008.
Once she entered the cat room at the shelter, two confident cats were all over her, yet she couldn't take her eyes off the furry kitty sleeping in the corner.
When Dumpling awoke from his slumber and locked eyes with Janelle, he chose her too.
Twelve years later, Janelle has written to us to share their story:
I had been looking for a cat for a few weeks but there never seemed to be one who really caught my eye, nor did I truly connect with any cat.
I was living in Richmond, and the BC SPCA Richmond Education & Adoption Centre had no cats available when I called. However, some cats were being transferred to their branch from out of town. The staff told me these cats would be available for viewing the following day.
The next day, I went in to meet them. There were three siblings—two very sweet, affectionate cats greeted me and were rubbing up all over me, wanting to be pet. The other cat was fast asleep on the cat tower.
He didn't seem that interested at first, but when he finally got up and walked over to me I fell in love with him. He was so fluffy and cute. When I held him he was like a Ragdoll—he just went limp in my arms.
To this day, Dumpling is the cuddliest, most affectionate cat I've ever had. He will stare into my eyes, inhale my breath… he's just the sweetest.
Funnily, even though he is so loving towards us, he doesn't like strangers at all. He takes quite some time to warm up.
Dumpling is a grumpy old man now at nearly 13 years old. We have three other cats in our home (aged six years, two years and 18 months). Although he can be grumpy, Dumpling is always the first to accept the newest cat by cleaning and cuddling them.
He has such a funny personality. No other cat compares to him.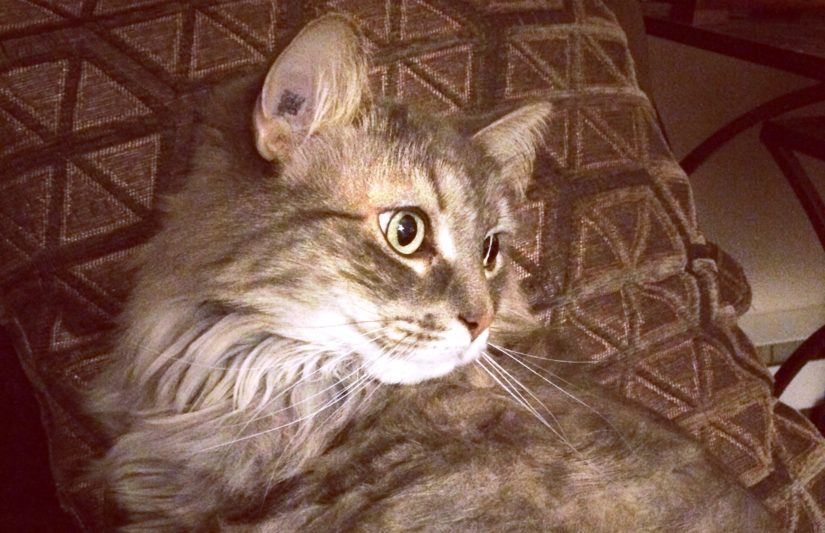 I met my husband when Dumpling was five years old and my hubby always jokes he fell in love with the cat first! Dumpling always knows when my husband is stressed or anxious and will go lay on his chest to comfort him.
Dumpling still comes running to the door when we get home and will spend the whole night in my arms or at my feet. He is the best fur baby companion and I'm so happy I found him.
Thank you, Janelle, for choosing adoption as your first option. We are so grateful that Dumpling truly found his forever home with you. Thank you for giving Dumpling such a fulfilling life and all of the affection he could ever want. We wish you, your husband and your feline companions many more years of bliss.
Have you adopted an animal from the BC SPCA and want to share your joy with others? Submit your adoption story!