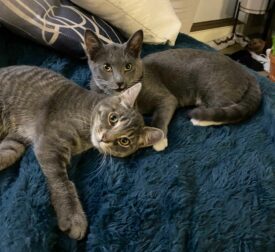 Found alone by the waterside in Salmon Arm, grey tabby, Dock and his sister, Harbour, were only three months old. Luckily a good Samaritan brought them to us at the BC SPCA Shuswap Community Animal Centre before they met with trouble or continued the cat overpopulation problem in the province.
They were healthy, friendly, normal kittens, needing nothing more than a good bath, some vaccinations, a neuter and spay and of course, a good forever home. How fortunate they were to be able to stay together and find a family that needed them as much as they needed a safe and loving home.
On September 1, 2022, their new story began when they were adopted from the BC SPCA South Okanagan/Similkameen Community Animal Centre to which they had been transferred for greater exposure. Read on for the continuation of the story of renamed Doc Hopper and Luna Beam:
"We lost our sweet boy, Sir Pounce, to an unexpected illness in June 2022. We decided that we were not going to get another fur baby; however, that changed after a few months of our house being too quiet and our grief too deep. We knew that we still had so much love to share and could provide the perfect forever home for someone.
We saw a photo of 'Dock' and 'Harbour' at our local BC SPCA. We made an appointment to meet them, deciding quickly that we would be bringing both of them home, as we loved them both and did not want to separate them.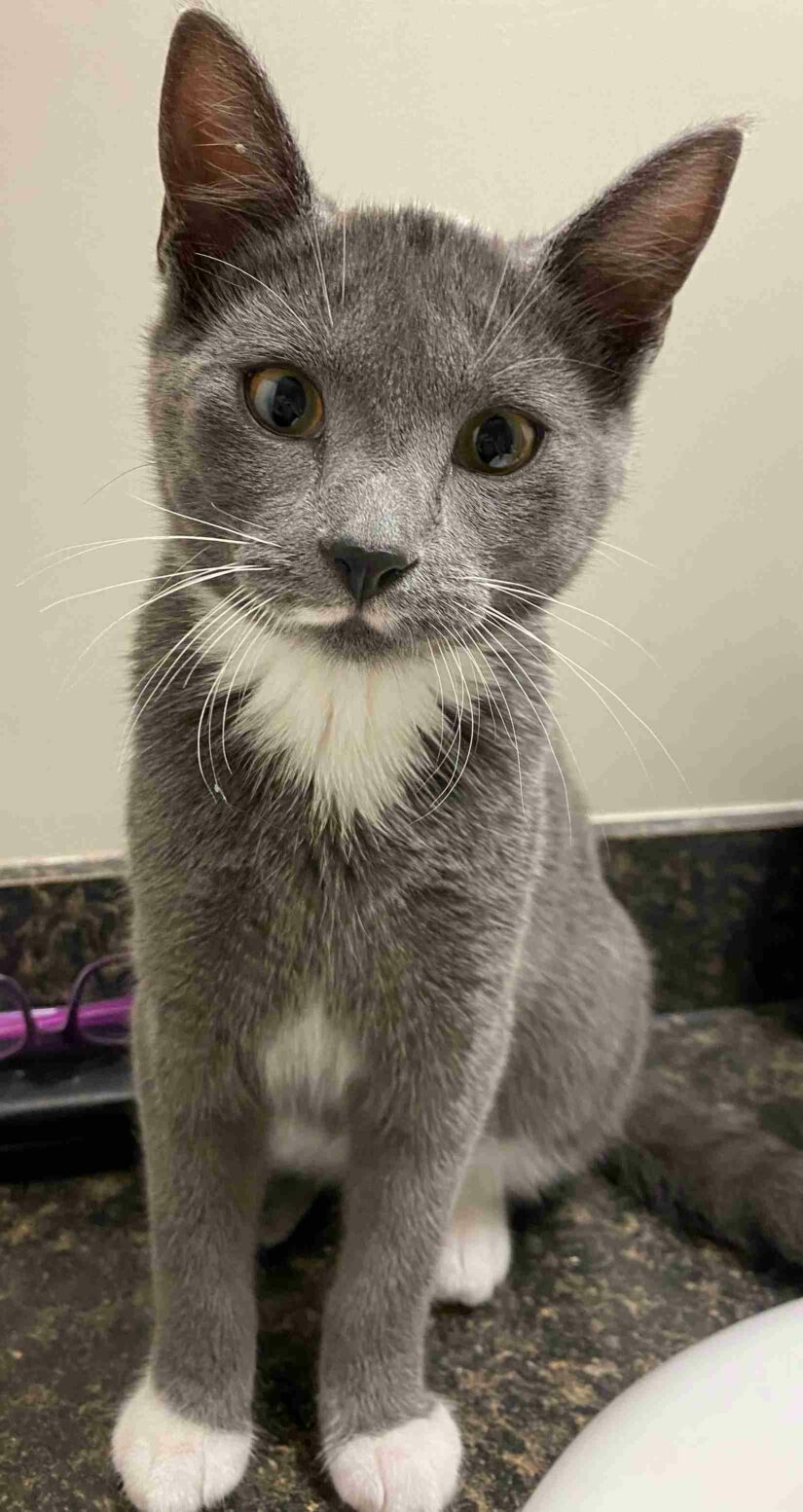 We expected them to be a little shy, and had everything set up to transition them into the house, quickly finding out that we didn't need to bother. Within five hours of being home they were completely comfortable and had explored every corner.
Doc Hopper (previously Dock) loves to snuggle. He will tell you exactly when he would like to be picked up by meowing sweetly. He's very chatty, chirping and meowing as he goes about his day. He loves to be carried around.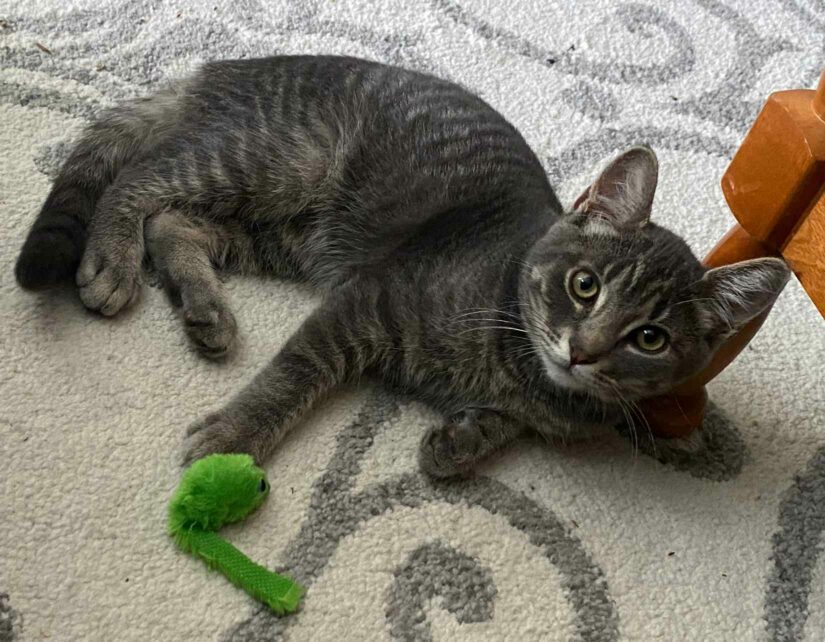 Luna Beam (previously Harbour) has learned to play fetch with mice and loves to chase. But she is always up for a nice long snuggle before nap or bed time. Her favourite way of showing affection is head boops and kisses.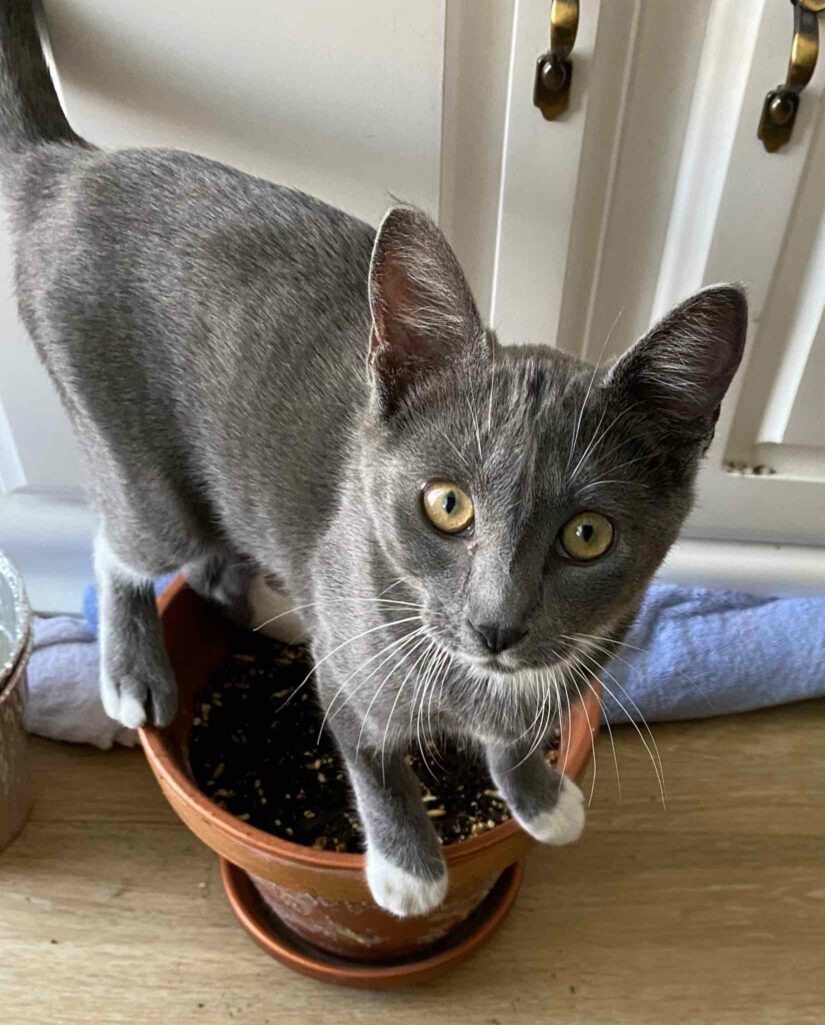 Both will follow us around all day, curious about what we are doing and how they can help. They have picked out favourite nap spots and tell us exactly when it's time for bed, cuddles, play and breakfast.
We realized shortly after getting them home, that they have the same 'gotcha day' and birthday as our sweet Sir Pounce, which was a very special coincidence. They have brought love and laughter back into our home and we are so grateful to have them. We can't wait to see what the next few years brings out in their personalities.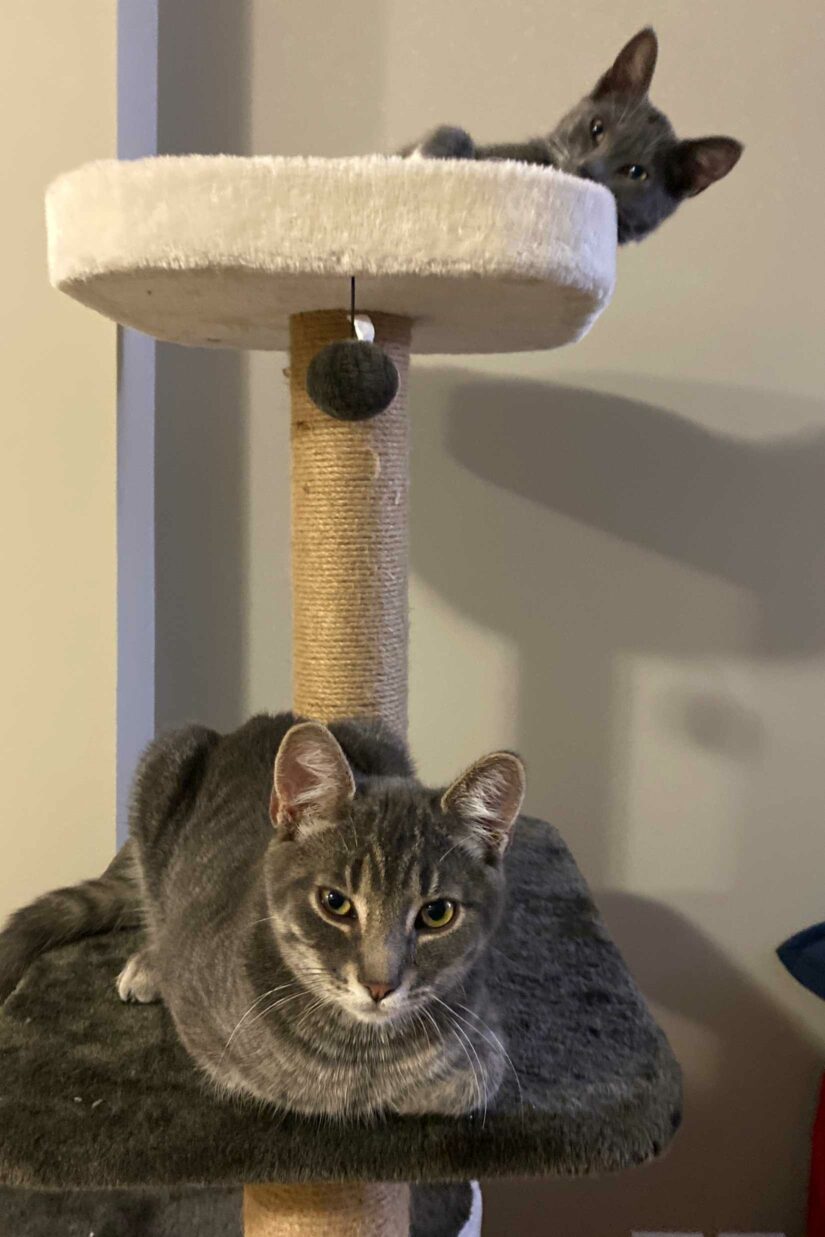 For anyone considering adopting from the BC SPCA we highly recommend it! If you are hesitant about the process or worried about picking someone out, be assured that the staff make the experience completely stress free.
We were very emotional and nervous at our appointment. Would they like us? Were we ready to bring two new family members home? The staff gave us as much time as we needed, were completely open with any questions we had and were very patient and understanding.
Adopting our Doc Hopper and Luna Beam has been the most wonderful experience. We would like to give a huge thank you to the staff at the BC SPCA in Penticton. You have helped make out family whole again."
The loss of a beloved animal companion is difficult. But it's always gratifying to us when people manage to find room in their hearts to love again, because there are so many animals in need of a good and loving home like yours.
We're sure you gave Sir Pounce a wonderful life. What a tribute to his memory to give that gift to two new sweethearts.
Thank you so much for choosing to adopt Doc Hopper and Luna Beam, and for allowing them to stay together. We're glad you found the adoption experience a positive one.
Have you adopted an animal from the BC SPCA and want to share your joy with others? Submit your adoption story!
Resources for cat guardians
How do I know if my cat loves me?