Handsome, five-year-old Manx, Dave, was surrendered to the BC SPCA Victoria Branch on September 22, 2015 by a concerned third party who discovered Dave had been left behind by his owner. The owner could no longer deal with him because he was urinating outside his litter box.
Dave was not trying to be a problem. In fact, he had a health problem, painful stones in his bladder that required surgery. Once in the care of the BC SPCA, he received that surgery.
Easy-going, friendly, chatty Dave showed as a wonderful potential adoptee. It wasn't long before a couple decided this great guy was perfect for them. Dave went to his very committed "furever" home on October 17, 2015 as a foster and remains there to this day.
Read this update from his guardians on Dave's life.
We first met Dave at the BC SPCA Victoria Branch in October of 2015. He had been surrendered a few weeks prior and was recovering from surgery needed for bladder stones.
We went in to the BC SPCA looking for a cat who could revive our empty home after losing my beloved cat of 17 years–Jack–a few months prior. We met a lot of cats that day, but were immediately drawn to the sweet Dave, who was clearly determined to spend as little time as possible in his cage.
He seemed like a social and playful cat, and with his immaculate coat, stubby Manx non-tail, and green eyes, was one handsome little dude.
We were not able to take him home that day as he still required medical treatment, but returned the next weekend and were able to take him as a foster, pending his recovery. We knew he would require a very specific diet due to his tendency to develop struvite crystals, but had no problem making this commitment.
We had set up a quiet room for Dave to adjust to our home, however, it was clear on arrival that he had absolutely no interest in this. He spent the first few hours rolling across the floors with his toys, running to explore his new domain and was never far from our sides.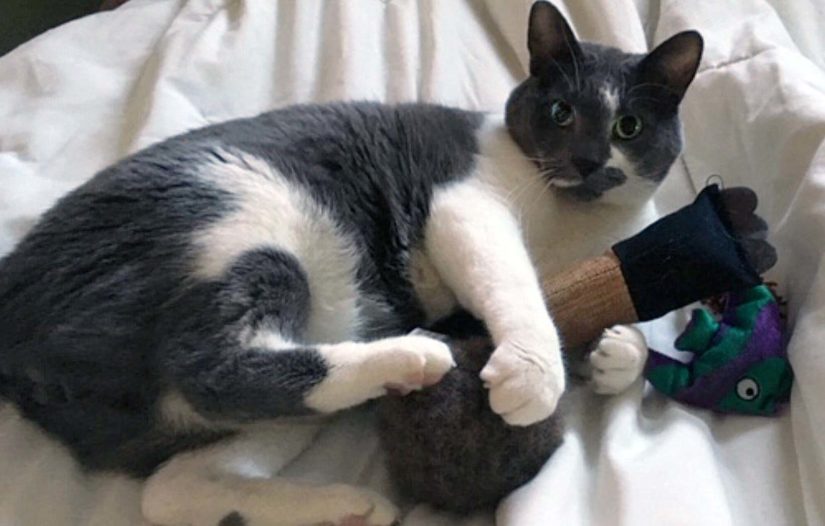 He spent the first night wrapped around my head like a furry bonnet, clearly deciding that we were now a family. He has spent every night since snuggled close to my head and back, his nose pressed into my hair.
Despite his clear commitment to his new home, Dave did continue to struggle medically for a few weeks. He developed an infection post surgery, and then inflammation, requiring several trips back to the vet for treatment.
For the first week, he would eat only when fed by hand…one kernel at a time. Eventually, however, he did receive the all clear and we were able to formally adopt the boy who had already claimed us as his.
Since this time we have been so happy to have this sweet, gentle creature in our home. He is very affectionate and most happy when with his people–preferably touching. This sweetness has not abated, even though he has continued to have health challenges.
The prescription diet he needed to prevent crystals caused weight gain and often painful constipation, requiring, at times, medication four times/day to help with elimination. Through various trials, we have finally found the right food that meets all of his needs.
We also noticed that Dave could not jump, seeming to pull himself up onto furniture with his front paws. We placed footstools in the right places and he carried on without complaint.
We learned last year that he has a bilateral patellar luxation, meaning that his knees give out when he tries to jump. We also learned recently that Dave has arthritis in both back hips, his spine and has two fused vertebrae.
Our sweet boy is clearly no stranger to pain. Through the help of our vets we have found some treatments that seem to help, and are prepared to be those people who build ramps for their cat when he needs it!
A few weeks ago, having decided that this gentle boy needed company while we are at work, we adopted a young kitten. Dave and young Rodney immediately hit it off, affirming how right we were.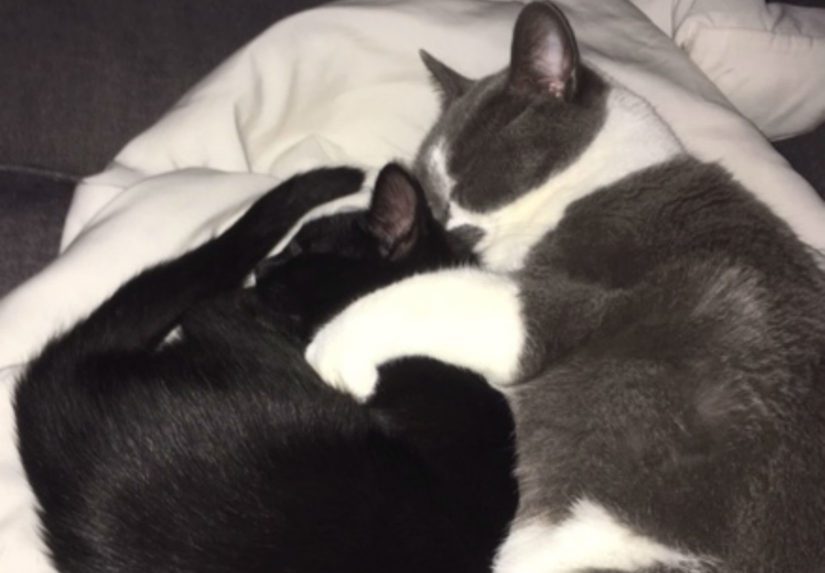 Dave takes his mother/brother duties seriously, thoroughly grooming the little one multiple times per day, allowing him to steal his beloved toys and even allowing him to try to "nurse" on his belly. The two cats are constant companions, snuggling as they sleep, chasing one another through the house, happy to have one another.
We just wanted whomever had to say goodbye to Dave three years ago, to know that he is loved, happy and thriving despite all of his challenges. We are so grateful to have him in our lives.
– Heather & Rob
What an indomitable spirit Dave has! Not everyone is equipped to deal with an animal companion with health challenges, but we're so glad you were, as is Dave. You are giving Dave (and little Rodney) a wonderful life. Thank you for choosing adoption as your first option.
Have you adopted an animal from the BC SPCA and want to share your joy with others? Submit your adoption story!