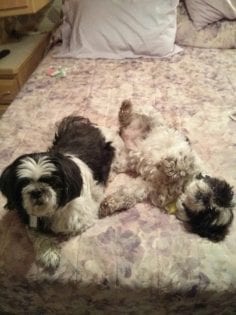 Holly and Stewie both came under the care of the BC SPCA Victoria Branch in July 2017. Though both dogs were shih tzus, they had very different personalities.
Holly was quite timid and fearful so she was looking for a guardian who could provide a quiet environment for her to slowly gain her confidence.
Stewie was well-mannered and comfortable in various situations but barked a lot when he was left alone. He preferred a guardian who could be home more frequently.
In August 2017, Holly and Stewie found their forever family and went home together to start their new lives. Their guardians sent us this update:
HAPPY CAMPERS.
We adopted Holly and Stewie at the beginning of August.
Holly was quiet and shy and uncertain of new things and loud noises. Stewie was very quiet, had health issues, and found it difficult to walk across the street. Holly is very affectionate and likes her tummy rubbed; Stewie was kind of a macho man and a little stand-offish.
I slowly took them on very short walks across the street and back, and then just down the street and back. Stewie was out of breath and liked to do his "business" quick and get it over with. Holly, on the other hand, had more energy, loved to sniff every blade of grass, and was choosy about doing her "business". Neither of them barked and were very quiet.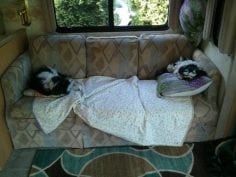 We gave them lots of loving attention, stroked their hair and groomed them, cuddled them, talked gently and softly to them. Every day their personalities come out a little more. We find out something new about them every day or they surprise us with a new trick like 'shake-a-paw'. Oh and another trick they showed us they can do: a new morning ritual standing on their hind legs begging for doggie treats. We just about fell off the chair laughing.
We have our daily walk about half a kilometre every day; the dogs come back "smiling". Holly has lots of energy and will play and run. Stewie is a lot stronger now, breathing a lot easier. He just started to play, and is now trotting around the house. Both have attempted to play with one another.
We take them RVing in our motorhome. They are great little travellers, just the right size, they love the outdoors and walks on the trails. They are our "happy little campers."
We spoil them. Holly likes to sleep on our bed, obviously she was someones "princess" and Stewie is a little more independent and likes the floor beside our bed. What a joy, they fit into our lifestyle like a glove, such an easy transition. We love them to bits.
We are super happy to hear how well you have gotten to know Holly and Stewie. It's really great that you're able to take them on your adventures and that you're all having so much fun together. Thank you so much for making the two of them the happiest of campers and for choosing adoption as your first option.