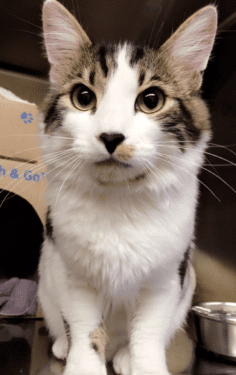 Sometimes it's all about timing. After experiencing the heartbreak of losing her cat to a terminal illness, Amy wanted to open her home to another cat.
Amy searched for weeks but didn't find herself connecting with any of the cats she met at various shelters. Yet, she persevered, knowing there would be the purrfect companion waiting out there for her.
Meanwhile, one day in early December 2018, Darcy came into the care of the BC SPCA Burnaby Branch. A handsome, sweet, young cat, Darcy wasn't with us for long.
The very next day, Amy entered the shelter and locked eyes with Darcy's golden greens. She knew he was the one she had been searching for.
Amy has shared an update describing how Darcy has settled in:
Darcy has brought sunshine into my life again after a rough couple of months. My 12-year-old cat Sarah had to be put down in October because she had an incurable illness. It was incredibly difficult.
Following my loss of Sarah, I had originally tried to adopt a cat at the BC SPCA Vancouver Branch, but they were closed for a few weeks. I tried a few more places but had no luck finding the right one. I was feeling discouraged.
Then, one weekend, I decided to go to the BC SPCA Burnaby Branch and I found my perfect match in Darcy.
When I first brought him home, Darcy was shy, but then he started to become more comfortable. Within a few days, he had explored my entire apartment, and has been adjusting really well ever since.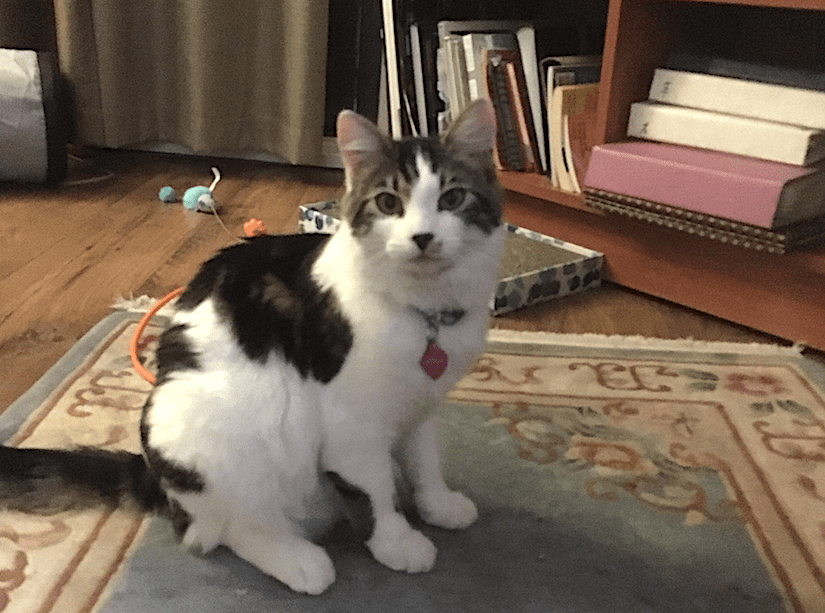 Darcy is growing fast and is very playful. I wake up to him on my bed every morning. When I come home from work, he gives me a cuddle and meows at me for his dinner.
I'm so happy to have Darcy in my life. He really is such a sweetheart.
Thank you, Amy, for adopting Darcy and for opening your heart again. It is hard to process how your life will be after losing a beloved furry family member. Powerful healing abilities lay in the paws of our other pets, even when newly adopted. We believe Darcy has this very ability and we love to see the cheer he brings out in you!
Have you adopted an animal from the BC SPCA and want to share your joy with others? Submit your adoption story!