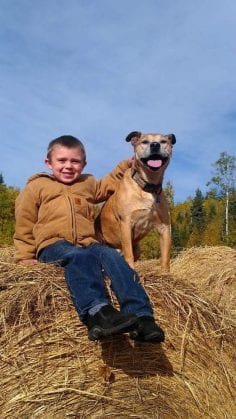 Although many consider their furry companion to be a valued member of the family, some connections are so special that their tale transcends the typical human-dog friendship. Dante's bond with his people is one such story.
Dante arrived at the BC SPCA Williams Lake & District Branch in 2006, with an uncertain future. A playful, six-month-old puppy, he didn't have much in the way of life experience and yet he already needed a fresh start. Fortunately for Dante, his new best friend walked through the door one snowy winter day and changed life for the better.
Here is Dante's story as told by his beloved guardian.
I adopted Dante when he was six months old from the BC SPCA Williams Lake & District Branch. As soon as I walked into the dog kennel area, he was sitting at the front of his kennel with these big brown eyes just staring at me. I knew at that moment he needed to come home with me, but was 17 years old and needed parental consent. We had two other dogs at home who would need to meet him as well, so we brought them to the branch for a meet and greet. It went very well, and that day, we adopted Dante. I had chosen Dante as his name because the baby name book they had at the shelter said it meant "lasting friendship". Our journey from there on out is unforgettable and forever a part of my life and the lives of those who met him.
After I graduated high school, I worked for the BC SPCA Williams Lake & District Branch and was able to bring Dante with me to interact with the shelter dogs and cats. I started obedience training with him and was doing agility as often as I could. Dante came everywhere with me, whether it was to a lake, to Horsefly to help on a ranch, drives to the corner store – it didn't matter where I went, he was by my side.
I had my first child at the age of 20, a little bundle of joy I named Lucas. I wanted to introduce my son properly to all of my dogs and prepared them beforehand as much as I could. When we were finally home, I went in beforehand with Lucas's baby blanket, sat down and said hi to everybody, letting them sniff his blanket. When I brought my son in, the dogs wagged their tails and then settled down. Dante came and sat at my feet,  watching over my son and never left his side from then on. It was from that moment, I knew he would be amazing with Lucas. 
Dante also helped foster orphaned and abandoned kittens that we took when the BC SPCA needed help. The kittens always took to Dante and snuggled up on him whenever they got a chance. He would clean them,  play with them and let them eat out of his food dish. He always loved watching over those kittens and was a calming presence for them.
I eventually moved to another town where I was working for a vet clinic. My son went to day care and Dante was allowed to come to work with me again. He would come out with me on my breaks and go for a walk after work. He met clients, as well as many other dogs and cats. He was loved by so many people.
When I began work as a secretary at a school, I had Dante certified as a Therapy Dog and he began coming to work with me once again. He was able to lounge under my desk and had student after student come in and spoil him. If a student was having a bad day, they could come, sit with him, talk to him and play with him. He was even included in the school photo! Dante absolutely adored each and every student, but had a connection with one in particular. He had such an incredible bond with this other human, it was incredible to watch. Dante was also able to meet teachers who were scared of dogs and help them overcome their fears. By this time, my son was in kindergarten and the three of us would travel together daily. Dante would always be laying in the back seat with his head resting on his boy.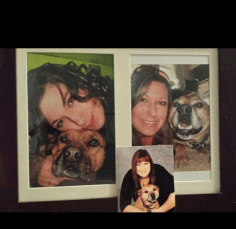 When my son was eight and Dante was ten, I was seven months pregnant on a drive to a friend's ranch. On the drive there I began having pain. I was hoping that when I was able to relax, the pain would stop, and it did after a nice swim in the river behind their home. But later that night, the pain got even worse and I couldn't sleep. I kept tossing and turning, with Dante poking his nose at me and jumping on the bed. Finally, it was 5:30 a.m. and I was in so much pain, but dragged myself out of bed and took him outside. I didn't even have my shoes on when he bolted to the river, something he's never done before. I thought it was odd and walked in my bare feet after him. By the time I got to the river, I couldn't see him anywhere. I was calling him and whistling, but he wasn't coming. I looked down river and there he was floating. I immediately start running as fast as my legs could take me. I was weak and wobbly and fell a couple times. I finally ran up beside him and jumped over the river bank into the river and swam out to him. I grabbed him by the chest and swam him to shore. I dragged him up the river bank and began administering mouth-to-mouth CPR on him, it was too late, Dante had passed.
I couldn't carry him back to the house with me. I had to run back to get my best friend to help me get him in my truck before our son woke up. I was covered in dirt and mud and soaking wet but I needed to get Dante to a vet hospital so I could have him cremated with his ashes back. I don't know how I was able to process any of this at that moment. I brought him to the veterinary hospital and they were waiting for me. I had a blanket over top of him and gave him a big hug goodbye, took off his collar,  hugged him again and watched as they wheeled him away. I had just lost my best friend. 
Once we had finished at the veterinary hospital, I decided I should go get a cut on my leg looked at as I had cut it amidst all of the chaos with Dante. I went to the town hospital, where they took me up to maternity and checked me over. I was having contractions and a helicopter was on standby waiting in case I needed to fly out to a larger facility. My contractions luckily stopped. My ultrasound showed that our baby girl was going to be born breech and I was put on the list for a C-Section.
After two days in the hospital, I had time to mourn the loss of my best friend and realize what an absolutely amazing dog he had been. After his whole life and everything we had been through together, at the very end he saved my life and the life of my unborn daughter. We had planned to go up the mountains to pick berries and it was about 2.5 hours out of cell service or civilization. Had we gone up, the doctor said I could have gone into labour and by that time, our unborn baby girl and I could have both passed away. We feel that he saved our lives. We feel that he is a hero dog. An advocate for pitbull type dogs, as he was a Staffordshire Bull Terrier cross. Forever in our hearts and never forgotten, RIP Dante July 2005-July 2015.
Thank you for making adoption your first option and for sharing this amazing story. We are so glad that you and Dante found each other and that he was able to provide comfort to you, your family and everyone around you. He is a true testament to the impact a rescue dog can have on his or her community. We know that his legacy will live on in the memories of all who knew him.