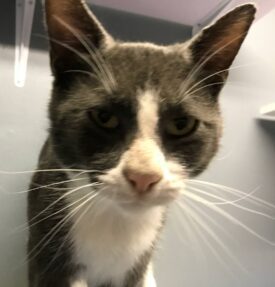 At a year and a half old, Willy's life changed when a natural disaster struck the area where he lived & his owner was no longer able to care for him. He spent some time with a local rescue organization in Bella Coola before being transferred to the BC SPCA Williams Lake & District Branch on August 27, 2017.
He was skinny, had a hernia, scars and ear mites and had not been neutered. He had likely been living mainly outdoors, fighting with other cats and adding to the cat overpopulation problem in the province.
Once treated and neutered, Willy was moved to the BC SPCA Vancouver Branch by way of our Drive for Lives program. Here, he captured the heart of his new forever guardians.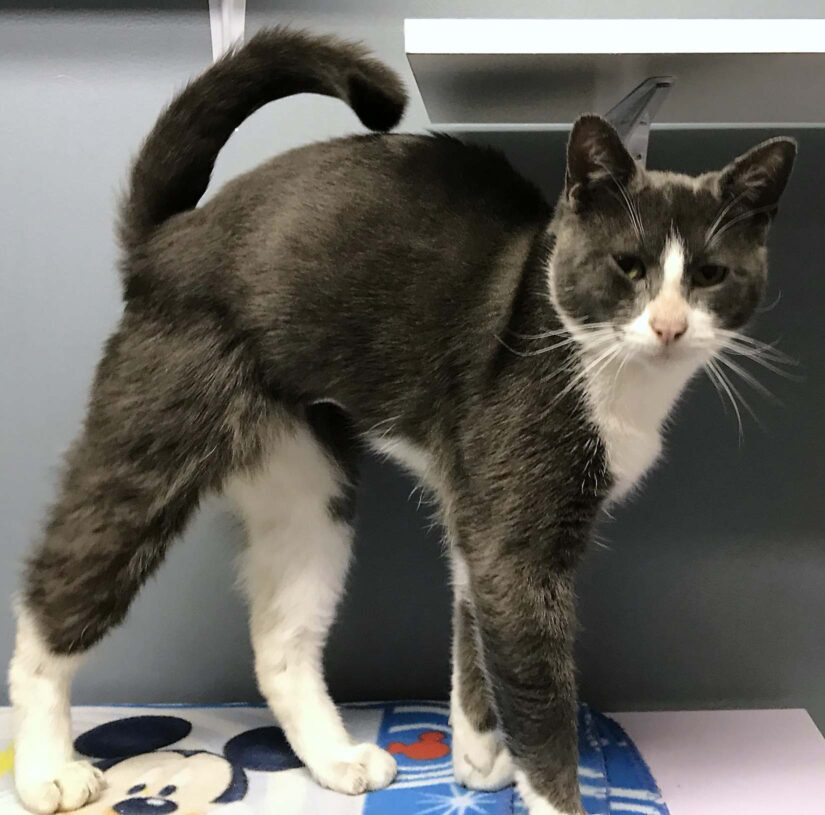 The photos alone tell of the dramatic transformation that can occur when an animal finds a great home, but read on to hear from his family how far Willy has come since they found each other in October of 2017:
We adopted Willy at a time when many animals were coming down to Vancouver from Williams Lake. This was during the 2017 wildfires and many pets had to be rehomed.
As you can imagine, people were losing homes and had to quickly and sadly surrender their animals. We found Willy at the BC SPCA Vancouver Branch one Saturday afternoon. I had recently lost my previous cat, and I was just "looking". Willy had me at "meow."
He is a very handsome cat. He happened to just have hernia surgery, got fixed and had an upper respiratory cold, but was the happiest, smoochiest boy in the room. Truth be told he was the only cat I looked at that day and we came back on Sunday to get him.
Turns out Willy was a bit of a menace. He was generally very well behaved in a home, but had some aggression issues directed at me. He would attack me, full force, a few times a day at first.
It was hard, but we worked with him and were very patient, until over time his aggression all but disappeared. He will still have the occasional "moment" but we have learned how to (a) read his body language and (b) work with him to calm down without yelling.
We have the sense that he wasn't properly socialized when he was young, although he loves people, and perhaps he was taken away from his litter or abandoned early, so we had to teach him what was appropriate. However, at the same time, he was sweet and friendly and really wanted to be around us.
I am so glad we put the time into him, because he is a wonderful companion, especially for my husband, who has a very stressful job. Willy is about the only thing that helps my husband to stop and slow down.
They just love each other and it is so special. Every night they cuddle together and watch TV, Willy curled up around my husband's legs.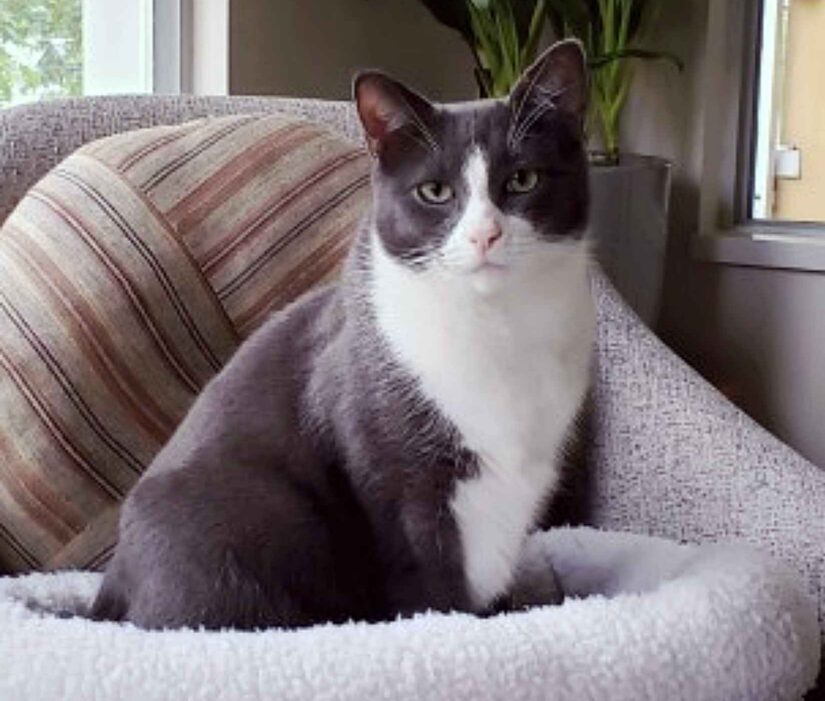 When adopting a surrendered or rescued animal, you don't always know what you are going to get. However, I can say you get back what you put in, in spades.
I cannot imagine our life without Willy in it. Even though those first months were really hard and we all had to adapt to each other and find a way to live together as a family.
Willy is never going to be the cat you can pick up and hold like a baby, but at the same time, he is the cat that is going to walk back and forth in front of you 100 times while you are on the computer and bash his cold little nose into your face and hands relentlessly until you give him some love. I would not have him any other way. He is the best boy and we are so glad he is ours.
What a wonderful story of love and commitment. Thank you so much for adopting Willy, for giving him the time to settle in, taking the time to understand what his needs are and for loving him for who he is.
Regardless of whether they're surrendered, abandoned, or born into comfort from the start, like people, companion animals are individuals, each with their own personality. That's why we strive to make the right match for the animals in our care, and it looks like a purrfect match was made!
We wish you many more years of cuddles with your boy.
Have you adopted an animal from the BC SPCA and want to share your joy with others? Submit your adoption story!