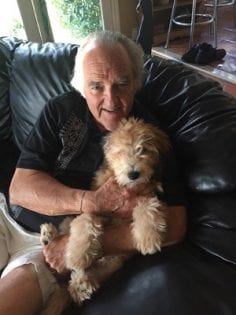 Cricket was rescued by BC SPCA humane officers in one of the largest puppy mill seizures in B.C. history in February, 2016. Cricket was just one of 66 sick and neglected dogs and puppies that were rescued; collectively known as the Langley 66. He was just one month old at the time.
The dogs and puppies were kept in deplorable conditions, with multiple dogs living in small, stacked crates and cages, in dark, unheated buildings with dangerous ammonia levels from accumulated urine.
Cricket spent some time at the BC SPCA Vancouver Branch being treated for medical and psychological issues before being ready for adoption. Once Cricket was ready, it didn't take long before he was adopted by his new guardians and taken to his first loving home.
Cricket is now known as Cooper, and has had nine months to settle into his new home. His new guardians have sent us this update to let us know how Cooper is progressing: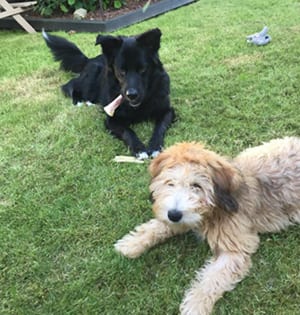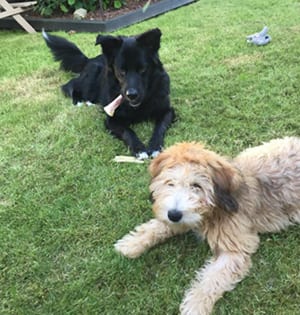 We wanted to give you an update on Cricket from the Langley 66. My parents adopted him, and he is now called Cooper. He is such a loving dog and is full of life and kisses.
Cooper has flourished in the company of our two other dogs, and they've all become fast friends. In fact, Cooper and Roscoe (our 11-month-old rescue) are quite a bonded pair.
Cooper loves to sneak into bed for a snuggle, enjoys his time on trails when out for walks, and he loves the water. The dirtier the better!
Cooper has brought so much joy and love into our big family, and we couldn't be happier that we were chosen to be his "furever" home. We are so thankful he joined our family.
It's fantastic to hear that Cooper is doing great and has bonded so well with all the human and canine members of his new family. We are thrilled that Cooper's story has turned out to be so happy after the shaky start he received as one of the Langley 66. Thank you so much for making adoption your first choice and giving Cooper the second chance he so deserved.