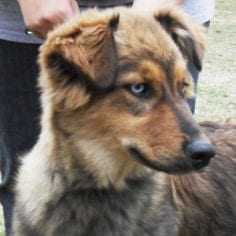 Cortez was just a young lass when she was picked up as a stray in Prince George. She was brought to the BC SPCA North Cariboo Branch with hopes of her being reunited with her family; she was such a beautiful young dog with a lot to offer everyone was surprised when no one came or called searching for her. Cortez had no identification and no family looking for her, so after a period of time she went up for adoption.
Cortez went to a local veterinarian to be spayed and tattooed to save her forever family from having to stress should she ever get lost. It didn't take this youngster long to bounce back from her routine procedure though, she was always a bundle of energy. Sadly, Cortez proved to be fearful in certain situations and didn't completely trust any new people coming around her; as well she seemed to have little to no obedience training.
17 days passed before a home came along that was suited for Cortez and all her wonderful little quirks. A gentleman, Sean, drove all the way from Kamloops to meet her and soon enough brought her back home to live with him and his spouse, Rose and their dog Noah.
Cortez (now Molly) has really settled into the home she was always meant for. Her new caregivers wrote to share an update and some photos: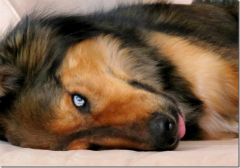 Molly has brought so much happiness and laughter to our lives. She truly has a unique personality. My spouse and I both have been around dogs, all of our lives, and neither of us have ever known a dog like Molly. She is exceptionally expressive, both with her actions and vocally – if her water dish is empty, she will make a sound that anyone would interpret as a human response to disappointment – it is really quite funny to hear.
We always joke that she was born to be a TV dog, because she quite naturally reacts to us and situations in much the same way actor dogs do, in movies. For example, I was sitting beside her, on the floor and I told her that I was having a bad day – she responded by putting her paw on my shoulder. She does things like that all the time. She is such a hoot to live with.
Every day, she does something to make us laugh; she is just the best dog ever. Although she now weighs around 65 pounds, she seems to think she is a lapdog, and prefers a lap, to any other seat in our home. She is very affectionate, and gives "hugs" by resting her head on a shoulder, much like a sleepy baby does when held.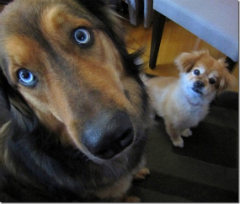 She is so smart, eager to please, and best of all, she is always happy. She was not always this way, though. When we first adopted her, it was obvious that she had been mistreated – she cringed at a raised hand. Also, she was not used to being in a house – we were told she was a stray. She was fearful in many situations, and she never wagged her tail.
We worked with Molly to help her overcome her fears and to adjust to life with her new pack (myself, my spouse, and our 13-years-old Pomeranian/Shih Tzu mix, Noah). It took a while for her to warm up to us, and more importantly, to learn to trust. But with patience, lots of love, and exposing her to many positive situations, she has become one of the happiest dogs we have ever known.
Now, Molly's tail never stops wagging! Best of all, her fears are gone, and she is now the happy, carefree dog she was born to be. She loves hanging out with her people, and really loves going on hikes; but, her all-time favourite activity is watching TV.  She also will watch movies on a computer, iPad, and even a cell phone.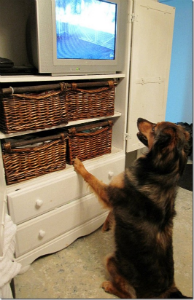 One day, while visiting a local pet store, Molly noticed a computer sitting on a desk. She got up on her rear legs, putting her front paws on the desk, and waited for the show to begin… the store staff really got a kick out of her. She seems to like any show with animals in it, but America's Funniest Home Videos and The Dog Whisperer seem to be her favourite shows.
Since adopting Molly, I have personally encouraged anyone who was considering getting a pet, to adopt from the SPCA. I use my Facebook to promote shelter adoptions, and Molly has been a great spokes-dog for shelter adoptions, via my Facebook… everyone loves her photos and videos that I have posted.
What a difference a couple years can make! We're so happy to hear about Molly's fantastic progress, it really goes to show what a little hard work, positive reinforcement, and a good dose of patience can accomplish. Thank you so much to Sean, Rose, and Noah for making adoption their first option, Molly couldn't have found a better home. Of course we, and every animal in our care, would like to thank you from the bottom of our hearts for your on-going support of animals in need; people like yourselves are the reason we are able to continue the work that we do.