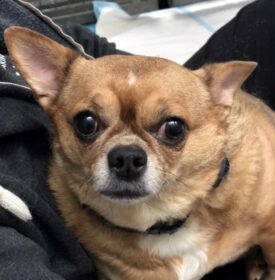 Who wouldn't fall in love with the face of dear Cody? At eight years of age, this Chihuahua/Pug mix was surrendered on December 24, 2021 to an Animal Protection Officer when his owner could no longer care for him.
When he arrived at the BC SPCA Vancouver Community Animal Centre, Cody was not eating or drinking and was lethargic. It turned out he had an infection from overdue dental work. We treated him for his ailment and placed him in foster care until he was ready for adoption.
Though a senior animal, Cody had "the soul of a puppy" and loved to play between naps. Sweet, shy, gentle and wary of strangers, he would need a home with calm, confident people and a puppy pal who would make him feel safe.
On February 17, 2022, Cody was welcomed with open arms into his new retirement home. Experienced adopters of senior animals, Cody's perfect family writes us here:
"We met Cody at the home of his foster mom, Kim. Cody was timid and a bit shaky in our arms on the first day.
Falling in love with Cody is easy. He is cuddly and just so gentle. He is not picky with his food and has no guarding issues.
We were told that in his previous home, he did not get the chance to be properly house trained. But Cody is very smart and tries his best not to have any accidents. In no time, he has adapted so well to our family and is house trained.
We can tell that he is now so happy because his tail is constantly wagging. He is getting along with our other dog and is now part of our family. Now with two dogs, our house is always buzzing with excitement and energy; our lives have been enriched.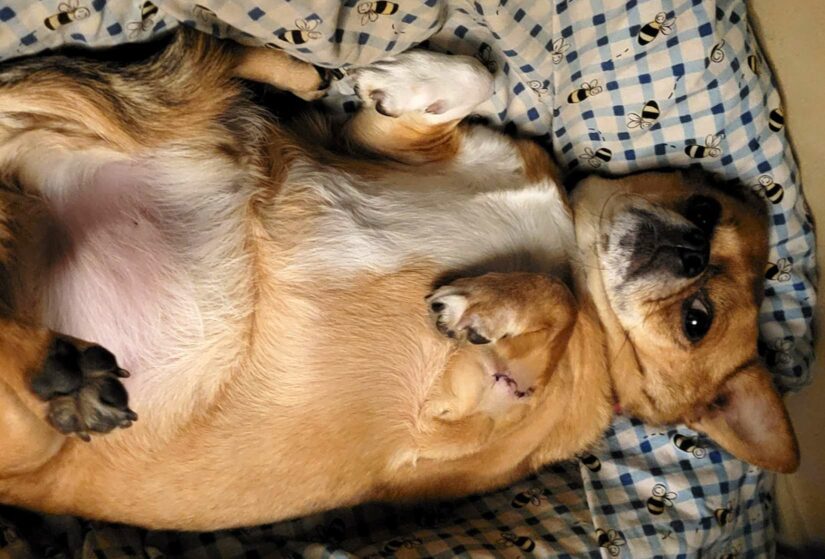 Big thanks to Kim, Cody's foster mom who helped us so much with Cody's adoption process and assisting us when we have questions about Cody's needs.
Big thanks also to BC SPCA who is doing an outstanding job to help these animals in need. Without you both, our lives would not be the same. THANK YOU!"
Thank you for adopting Cody. We can't imagine a better home for him and we can see from your photos just how happy his retirement years will be.
Have you adopted an animal from the BC SPCA and want to share your joy with others? Submit your adoption story!
Resources for dog guardians
How do I welcome a new dog home?
Tips for 5 common dog training challenges