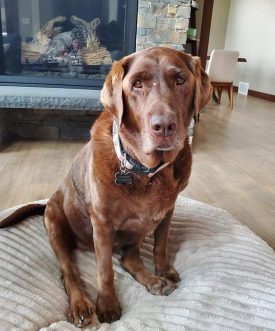 When we adopt animals, they truly become such a big part of our family. When Susan and her family met Chloe at the  BC SPCA Surrey Education & Adoption Centre in October 2013, they knew she was meant to be in their lives.
After almost eight years of many happy memories, Susan has written to us and shared Chloe's story— as imagined, from Chloe's perspective:
"Yesterday we had to say goodbye to our beloved Chloe. She was a very special soul. We adopted her, loved her and nursed her through arthritis and Lymphoma. Last week I wrote Chloe's story through her eyes…
Hey, it's me, Chloe.
Back in 2013, I wound up at the shelter. I don't remember much before those days. They gave me my own room at the shelter and sometimes I'd hear voices and footsteps, which meant visitors were coming.
One day, I heard two ladies walking towards my room. I got up off my bed, thinking I better look my best and maybe they'd want me to join their pack. That's the first time I saw Mom and Carlee.
They looked at me and that was my moment to seal the deal. I gave them my best Lab head tilt and tail wag. They got excited and said, 'She's perfect—we have to get her.' Then they walked away without me.
After a couple days, the humans retuned. This time, Mom and Carlee also brought along Dad and Molly. Dad smelled like food so I liked him immediately.
Molly let me know she was the leader of the pack with her tail stuck up in the air. I didn't care, because we just gave each other a sniff and then we played. I knew Molly's secret—she acted all tough but really she was scared. She needed a nice, calm friend like me.
Once we got to my new home, it smelled like the humans and dogs and food and there was lots of grass to sniff and pee on.
Some time after I'd settled in, I met Erik for the first time. He smelled like somewhere far away. He was calm and pet me nicely. He loved me right away and I loved him.
Erik gave me my first chance to show off my secret skill. He took us to this lake and he had no idea I knew how to dive to retrieve rocks. He looked pretty surprised when I surfaced with a rock in my mouth. I had so much fun in the water and I made my human happy. He took me back to the lake lots of times.
One of my favourite memories with Carlee was when she took me out for a girls' night in the snow. It was super late and Carlee didn't even make me wear my leash. There were no cars so I got to go wherever I wanted. I could feel the girls' love for me and they made me feel special. I think I made them happy too because they were smiling and laughing.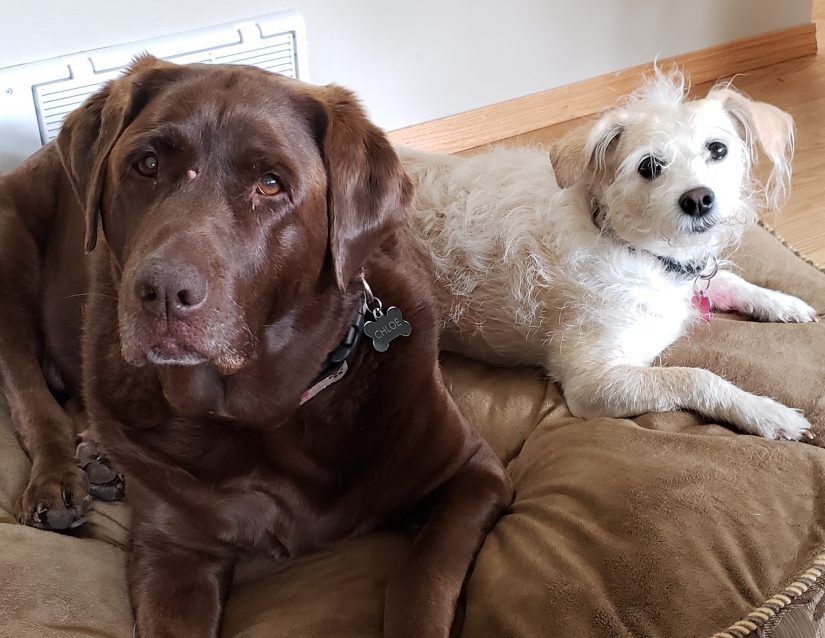 Now, Dad—he understands what a Lab needs: food. Dad always insisted I help clean his dishes and practice catching the flying morsel. He usually has spilled food on his clothes, so naturally we bonded.
One of my favourite times with Dad was when he would shovel the snow and toss it up in the air and I'd catch it. Sometimes he'd make the snow into a ball and sometimes it would fly off his shovel. It was the best game ever.
Eventually, Carlee picked James to be part of our pack. Carlee is smart because James loves dogs. He gives me treats and rubs my belly.
Mom and I spend so much time together. We have gone for so many walks and we talk. Mom can listen and talk to me without us using words. When Mom thinks about our special bond she cries and I let her hug me and pet me.
I've gotten to do so much fun stuff over the years. I'd go swimming in the pool, hide my ball in the leaves on a field and go to Wolf Mountain. I loved playing with Molly in the house, digging carrots in the field, rolling around after a swim, paddle boarding, eating the biggest best bones and mooching for food.
These days, I get tired and sometimes I don't feel too good. My humans seem sad sometimes, but I am not sad. I've had the best life and completed my purpose. I know I made my pack really happy just by being me. I helped Molly too. She needed my calmness and to feel like top dog in the pack.
I hope my humans know I'll always be there with them. They might think I'm gone but I won't be. Molly is waiting in a field for me and when I get there we'll run and play. Molly won't lose her breath and my legs won't hurt.
I'm always going to be in my family's hearts. I hope when they think of me they hear me say, 'Hey, it's me, Chloe,' and that it makes them smile."
Thank you to you and your family, Susan, for choosing adoption as your first option. Your story, through Chloe's eyes, was a wonderful tribute. Thank you for giving Chloe such a loving life. It sounds like she truly lived her days to the fullest. We know she will always have such a big space in each of your hearts.
Have you adopted an animal from the BC SPCA and want to share your joy with others? Submit your adoption story!