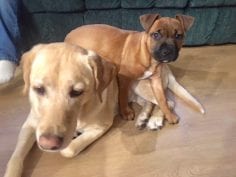 Chase, a mastiff puppy, was born while her mother was in the care of the BC SPCA Victoria Branch in November 2017.
Once Chase was healthy and developed enough to be separated from her mother, we placed her into the care of a wonderful foster parent, Jo-Anne, who would devote time to training, socializing, feeding, and playing with her, and most importantly, would put a roof over her head.
However, Jo-Anne and her family soon fell in love with Chase, and didn't want just a temporary relationship with her, so they chose to adopt Chase.
Jo-Anne has now provided an update after three months of having Chase in her home: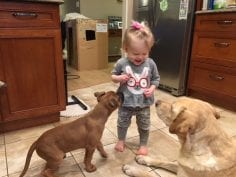 Chase is a wonderful addition to our family. Our lab Lucy absolutely loves her, and she is almost nine years old. I think it makes her feel like a young pup all over again.
We were only going to foster Chase for a weekend, but we couldn't let her go. We love her with all our hearts. We couldn't be happier.
Thank you, Jo-Anne, for adopting Chase and making her a permanent part of your family, and thank you to all of the BC SPCA foster families who put in such amazing care and work.