Cassie was only about two months old when she came under the care of the BC SPCA Abbotsford Branch in January 2017. Much like other beautiful Domestic Longhair kitties, she was as sweet as she was fluffy.
She started off a bit shy but quickly warmed up to other people. She loved to cuddle up close once she got comfortable around someone and was looking for a forever home that would be calm and quiet. She waited for a family that would be able to give her the attention she needed.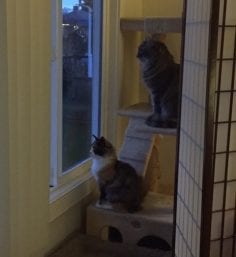 Then in March, her new guardians found her. They wrote to let us know how much of a difference she has made to their family:
Late last year, one of my nine-year-old Maine Coons passed away, and her brother Dexter was devastated. They were litter mates, and he fell into a depression afterward; while normally outgoing and playful, all he did was overeat and hide under the bed.
I gave him a few months to grieve, and then started looking for a young friend to pick up his spirits. I finally found one at your Abbotsford branch: a four-and-a-half-month-old Calico named Cassie (now Ella), whom I adopted on March 18. It has only been two weeks, but already Ella has lifted Dexter's spirits.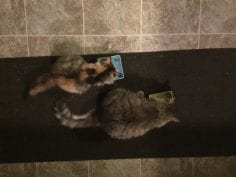 They are now playing, eating, and watching birds out the window together. Ella, who was feral, is feeling more secure about being picked up and held, and is just a sweet dear who is totally contented to spend her days hanging out on the cat tree. I feel blessed to have her, and thank you for helping make her part of the family!

It's fantastic to hear how Ella has been getting along so well with Dexter. We love to see siblings take to each other so easily, and we're so happy Dexter's spirits have risen. Thank you for giving Ella the forever home she deserves, and for making adoption your first choice.