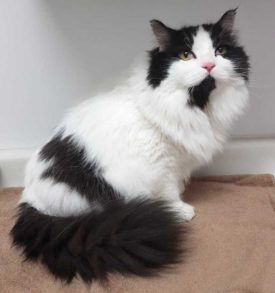 Casey had gained a bad reputation when he was surrendered to the BC SPCA Victoria Branch in October 2018. He had bitten another cat, so the staff took every precaution to avoid this happening under their care and in his future.
Despite his history, Casey made himself known as a huge lovebug with humans. He also enjoyed going outside on a harness.
When Fred and Marie came across Casey's adoption profile on the BC SPCA's website, they knew they had to meet him. Once they met, it was clear, Casey was piece of their family that was missing.
A year later, we have received Fred and Marie's story:
We have always had cats. We had lost our last cat to old age and we didn't think it was the right time to get another one just yet.
However, on the BC SPCA website we saw that there are so many homeless animals. Then, we came across Casey online. We decided we would check him out at the shelter.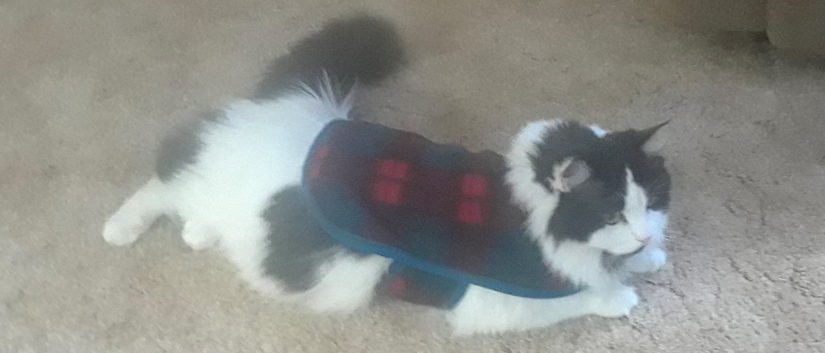 Casey was in a room by himself because he was aggressive towards other cats. He came up to us and jumped on my knee right away. It was love at first sight!
Casey is harness trained and we all look forward to his daily walks. He enjoys helping me in the garage, too. Otherwise, he is an indoor cat only.
We love him so much. Thanks for saving him.
Thank you, Fred and Marie, for adopting Casey and giving him such a loving, forever home. He must be so pleased to be the only cat in your lives and have your undivided devotion. We wish you all many more happy years of harness walks, cuddles and relaxation.
Have you adopted an animal from the BC SPCA and want to share your joy with others? Submit your adoption story!