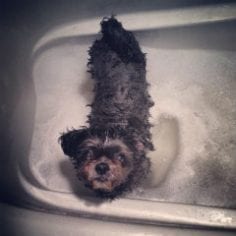 Senior dog Buddy was surrendered to the Victoria shelter because he wasn't getting along with the children in his home. Buddy wasn't super happy to be at the shelter although he quickly became a favourite with our dog walkers. Buddy was such a favourite with our volunteers that less than a month after entering the shelter, one of the dog walkers adopted him!
Buddy is now a beloved family member and they were kind enough to share his new life with us.
The first time I met Buddy, I went into his kennel cautiously so as to not scare him and sat down to meet him. He waddled over with a definite tilt and shift from one foot to the other and sniffed my hand. I then proceeded to pet him on the side and chest and eventually the head. His eyes lit up and the tail started wagging like crazy. I harnessed him up and off we went. He walked very easily and proved to be a very curious sniffer in his own little world. Ever since then, we were a pair! To this day, I can't describe what it is about him that stole my heart, but stolen it was.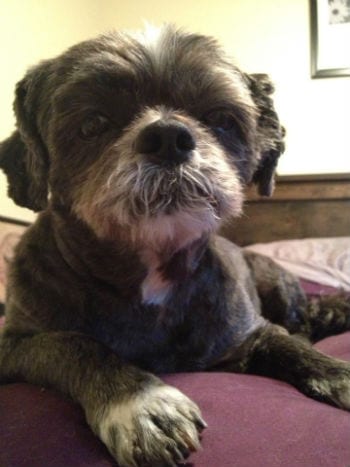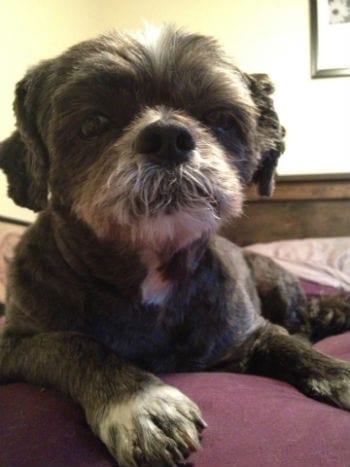 Coming in the door is always a major self esteem booster. Buddy runs over from the window, with the same tilt and shift run and a frantic look in his eyes. He will jump up at me, almost a foot in the air and once I sit down to greet him, my face, throat, arms, chest and legs get covered in dog kisses while he grumbles and whines. He jumps over my legs, howls, barks, and smiles while running back and forth.
Our cats are comfortable with him now, although they don't play or cuddle with him. Buddy even tolerates our pet bird landing on his head! He follows me everywhere in the house: he will get up and come with me to the kitchen, watch me put a glass in the dishwasher and walk back to the living room with me.
Buddy is such a love and a goof ball who often wants cuddles, and sometimes has very crazy moments being hyper that have me running with him down the street! I'm so happy that we found each other and that I am able to give him a loving home for his last few years.
We're so excited that Buddy's family not only chose to adopt, but chose to adopt a 12-year-old dog. There are many benefits to adopting a senior animal and they fit into all types of families.