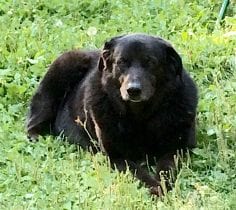 Very few people can resist the charm of a baby animal–a puppy, a kitten, a bunny. But it's really special when you receive a letter like the one below, because it speaks to the hope and the goal of all of us involved in adoptions at the BC SPCA. That goal is to place all of the animals in our care, in homes that recognize that with the many rewards of pet guardianship comes responsibility.
Please read the story of Buck and Annie, adopted as puppies from the BC SPCA Kelowna Branch on May 19, 2006.
Buck and Annie came home with us as puppies. They chewed everything, including door frames and a toilet seat. The toughest, most industrial strength Kong chew toy was in fragments after one night. Eleven years later, Annie is still hard on her dog beds, but the rest of our home is ungnawed.
From the beginning, Annie loved to swim. Only the coldest weather keeps her out of whatever creek, lake or large puddle we find. Buck likes to walk and run, but secretly believes he is a lap dog. Both dogs proved to be extremely intelligent and eager to please from the beginning. We've never had dogs who understood such a large vocabulary of human words.
Neither dog has had serious health issues, perhaps one of the benefits of being a "mutt." Both have the shedding fluffy undercoat of an Australian Shepherd, which was listed as their possible breed when we adopted them. Annie gets put on a diet whenever we see the vet, but always manages to find something to eat that isn't dog food (compost, horse poop, chicken feed, once an entire Costco-sized pie). Buck, on the other hand, stays slim and elegant.

Although we live on an acreage, the dogs love their walks. This past summer, they experienced city life when we were evacuated during fire season to an apartment in Kelowna. Buck and Annie were thrilled by the sheer quantity of canine "p-mail" to be found in the city! Although Buck was afraid of the elevator, their indoor manners were very good for two country dogs.
At eleven years old, our dogs are starting to slow down a little. They nap a little more, chase squirrels a little less. We know they won't be around forever. They have given so much love to our family, we wanted to thank the BC SPCA for bringing these big black hairy beasts into our lives.
And we thank you, for making adoption your first option. We are so happy to know that Buck and Annie are living long, happy lives as beloved family members.