Bubbie was about six-years-old when he came into our care in June 2014;  his last guardian had become ill and was unable to care for him.
So this handsome, white and caramel cat came to stay at the BC SPCA Vancouver Branch while he waited to find his forever home.
Bubbie was a very easygoing cat and just as cute as his name. He was a smooth operator, loving to cuddle and always content for more chin and head rubs.
Unfortunately, Bubbie had a history with urinary crystals so his new guardian would have to take extra special care with his diet. Just as importantly, he needed someone who would show him the same love and affection he always showed to others.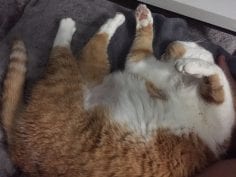 Only a couple of months later, he went home with his new forever guardian. We were sent this message letting us know how he's been doing:
Bubbie settled in to his new home in no time at all. He explored his new surroundings and wasted no time getting settled in.
He is such a loving boy. He loves attention and sleeping in the crook of my arm at night. He was a bit scared when I had to put him in his kennel for his first vet visit, but once he was in his kennel he eventually settled down and did very well.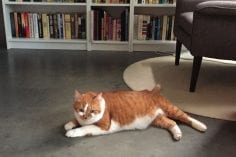 I am so happy to have Bubbie, he is the best!
We are so glad to hear that Bubbie didn't take long to settle in and that he's getting his fill of cuddles.
Thank you so much for giving him the proper care he needs to have a healthy life and helping him get through his visits to the vet. We know he is in great hands and getting all the love he deserves because you chose adoption as your first option.