When young Bruno was surrendered to the BC SPCA South Okanagan/Similkameen Branch back in early 2009, we knew just how much joy he would bring to the right guardian once they met him.
Lucky for Bruno, Gary saw him as the perfect addition to his family. He was right.
Bruno spent twelve happy years in his forever home, playing with his canine sister, receiving all the food he needed and love he wanted.
Now, Gary has written to us to share his tribute to Bruno:
Bruno was about eight months old when we adopted him from the BC SPCA South Okanagan/Similkameen Branch in March 2009. At first, he and my Border Collie were not the best of friends because she liked to be the centre of attention.
Bruno was a runner when we first got him. If the gate was open, he was gone. He eventually learned where his home was and near the end, at 12 years old, he could wander in the unfenced area and not leave the yard.
He got along with all people and most dogs as long as they didn't show dominance or aggression towards him. He loved to walk in the off-leash park.
If we brought out the brush when we got home, Bruno would just lie down. He enjoyed being groomed—unlike the Border Collie who still hates brushing.
Bruno wasn't allowed on the furniture. Although, in his last years, I often found him curled up on the love seat, looking so comfy that I would just leave him be.
When he wanted his food he would give a low friendly growl that was almost like talking to tell us it was time to eat.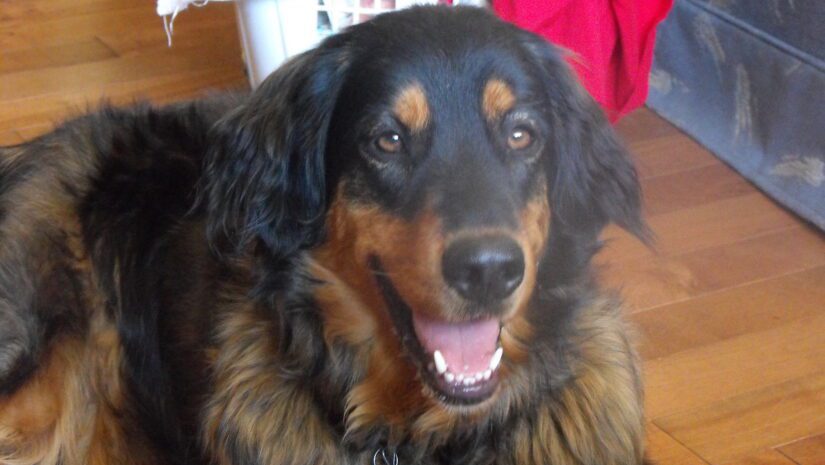 He loved to chase a ball. If it went in the woodpile, he would start to dig the pile apart to get at it. He was never totally reliant on me to do things for him.
He and the Border Collie were kind of a tag team. He would drop the ball about 10 feet away then she would pick it up and put it in my hand.
It was a good life we shared with him and he is truly missed.
Even though I am starting to look for another friend like Bruno, I am remembering that there is a circle to life. I enjoy and remember the best times I shared with him.
I love you, Bruno my pal.
Thank you, Gary, for choosing adoption as your first option, and for sending us your beautiful tribute to your special Bruno.
Even though making the right choice at the end is one of the most difficult decisions we will ever face, please take comfort knowing you gave him the best and most fulfilling life possible. Thank you for sharing your life with Bruno and for making him such a happy boy.
Have you adopted an animal from the BC SPCA and want to share your joy with others? Submit your adoption story!