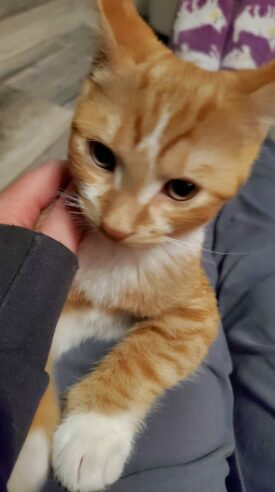 Naturally, Melissa and Dan were heartbroken when unexpectedly losing their young cat to Feline Leukemia. After some time had passed, they were ready to start looking into adopting another furry sibling for their senior cat, Abbi.
Then, as if he knew his future guardians were looking just for him, Freddi and his extra fingers made himself known.
After going to meet Freddi at the BC SPCA South Okanagan/Similkameen Community Animal Centre in October 2021, Melissa and Dan instantly knew he was the one. Freddi has now been in his new home for several weeks, and Melissa has shared an update:
"Over the last 17 years, my husband and I have adopted three of our kitties from local BC SPCA shelters.
Our very active senior cat, Abbi, is nearly 18 years old and has been with us since 2004. She is extremely loving, affectionate and can never get enough human interaction.
The death of our boy in 2015 at age 10 and then the loss of our sweet Gert to Feline Leukemia in August, a month from her fourth birthday, left us all devastated (and Abbi very needy).
After nearly six weeks had gone by, we knew were ready to bring another baby into our home. I saw Freddi's profile—a shy but affectionate boy that would be good in a home with another cat or kitten. He is also polydactyl (extra toes). He sounded 'purrfect' for us.
I submitted an application and nearly a week later I received the call that we were chosen to meet Freddi. He was a bit skittish at first, but within an hour of bringing him home into his safe space in the guest bedroom, he started to come out of his shell.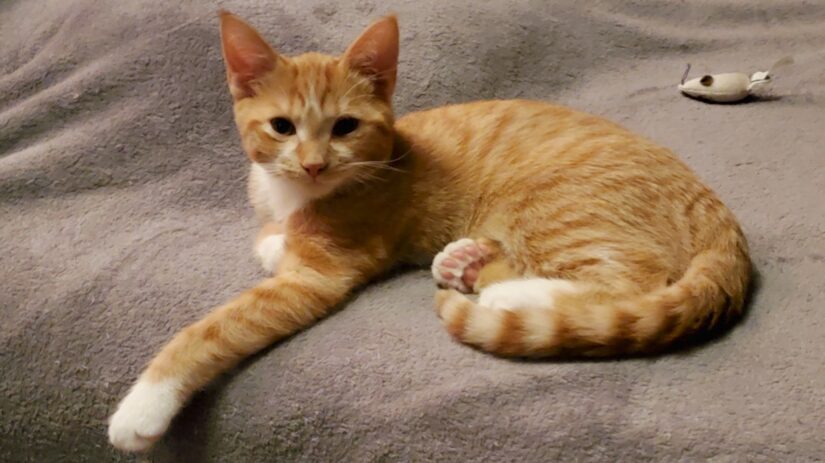 Freddi is the sweetest and most loving little boy. He is gentle and playful. He loves to play catch with his favourite toys. He cuddles with his humans at every opportunity and is mindful of his alpha kitty sister, who he tries not to annoy—smart boy.
Though Freddi does like to bat her tail on occasion, Abbi, in return, will give him a swat or hiss to remind him she's in charge. However, as long as she's asleep, Freddi can get nice and close. We know soon enough they will be snuggle buddies.
Freddi has brought so much joy into our lives. We are grateful to the BC SPCA for matching us with this very special kitten!"
Thank you, Melissa and Dan, for choosing adoption as your first option, and for always being such avid supporters of your local BC SPCA shelters. We are thrilled that Freddi has found such an amazing home with you, and we have full faith that Abbi will come to fully embrace her new brother in time. We cannot wait to hear about all the mischief Freddi will get up to in the years to come.
Have you adopted an animal from the BC SPCA and want to share your joy with others? Submit your adoption story!