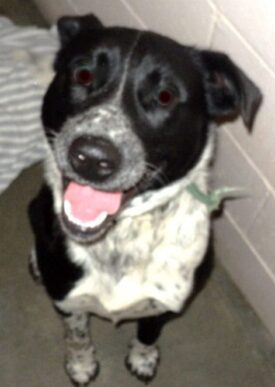 When one-year-old Brodie came to the BC SPCA Comox Valley Community Animal Centre, he was a sad sight. He was skinny, very fearful and full of parasites. He had never been indoors and cowered and peed at almost any slightly sudden movement such as someone crossing their legs. He didn't know how to play and squeaky toys terrified him.
But this stray also warmed up easily, learning how to be on a leash or meet other dogs or people. So we knew that with time he would make a wonderful companion animal. On March 6, 2011, Brodie went home with his right match and the rest is a long and happy history.
Read on to hear from Brodie's forever guardian how this resilient canine went from fearful to fearless:
"It was a challenge to get Brodie into the car to go home and he was generally fearful and was easily car sick for the first few months I had him. He felt safe and slept well in his crate, but even just hearing a small wave on the beach caused him to flinch and the sound of the training clicker caused him to run into his kennel.  
With the help of a dog trainer, socialization with other dogs at two doggy day cares, lots of running in the woods and agility training, his tail began wagging almost all the time. He loved the tunnel and jumps and teeter totter and everything! Brodie grew to love squeaky toys and he became quite competitive, jumping higher and farther than many of the other dogs to get the ball when thrown.
His coat became shiny and soft and he filled out. He became well muscled from all our hiking adventures. The more he challenged himself the fitter he got. 
I wondered how he would react to larger predatory animals. A couple of times when we came across a bear statue he would bark then go behind us. Then one day, on our normal long walk in the woods Brodie suddenly ran up ahead and started barking. I caught up to him to see a terrified black bear about about 30 feet up a tree!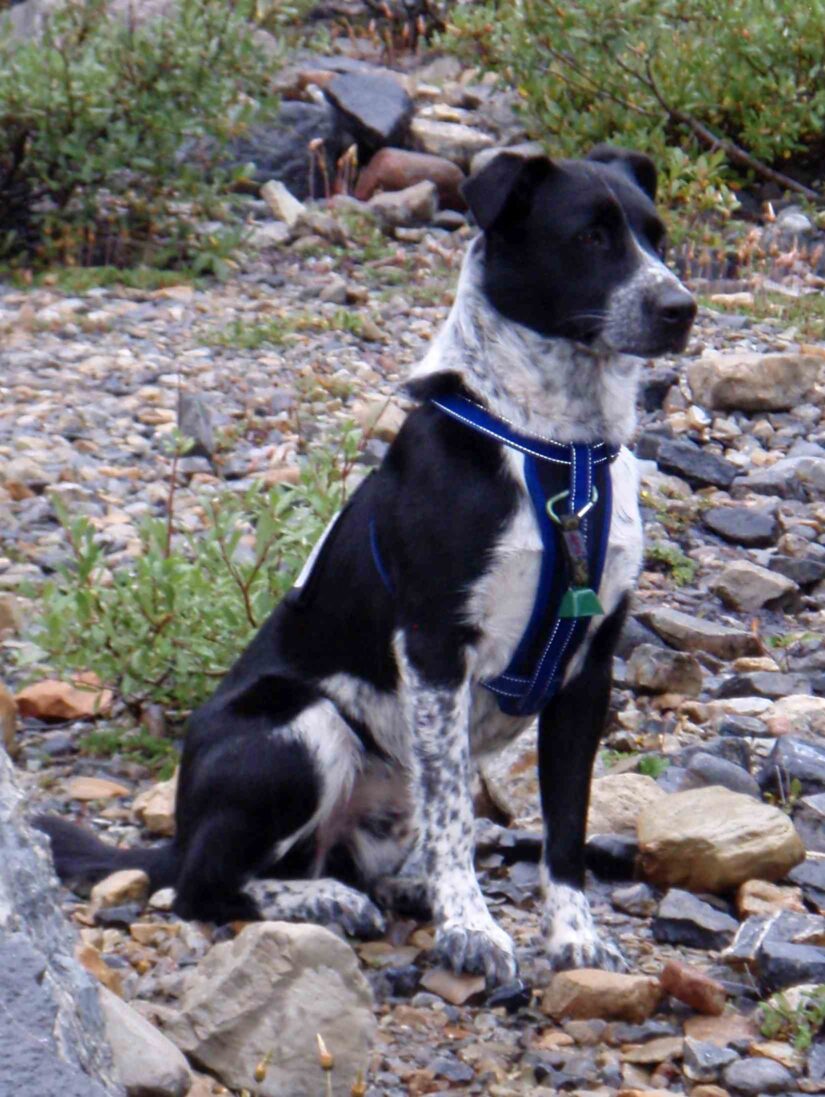 I have been hiking out in the backcountry, most of it alone, for 45 years and am very comfortable out there. But one day on our walk in the woods, when there was no wind, I started to hear a very strange, very low, almost inaudible sound. When the hair on the back of my neck stood out, I knew it was a cougar stalking us.
Though I wasn't carrying the knife I usually do I was wearing a large yellow raincoat so I made myself big, took a stick in my hand and got out my whistle. I kept walking normally and looked behind me every once in awhile, with Brodie right beside my right knee. About ten minutes later suddenly there was a commotion in the undergrowth and Brodie barked and chased a large male cougar right up a tree about 30 feet away from me!
I praised Brodie for saving our lives and we hiked on. There is no doubt that Brodie was now the ferocious protector of me/us. He had transformed from being fearful to fearless!
When I brought Brodie back to the BC SPCA for a visit, staff could not believe how much he had changed. His tail wagged furiously as he recognized and loved those who were there to help him start his new life.
Brodie lived well til he was 11 ½ years old and has forever changed me. I am so grateful to my four-legged relative who had my heart and soul and who showed me that it doesn't matter where we come from, how much we were hurt and scared and abused, there can always be healing with (the right) environment and guidance. I will always carry him in my heart. 
Thank you to the BC SPCA and other knowledgeable and caring individuals who help rescue unfortunate creatures of all varieties from some terrible situations. I also now really understand the saying "who rescued who?" for it really wasn't a one-way journey.
Barb
Comox Valley, BC"
How lucky was Brodie the day you walked through our doors. You knew just how to help this fearful pup and help him thrive through a long and full life as your devoted family member.
Thank you so much for making adoption your first option and for sharing with us your wonderful story.
Have you adopted an animal from the BC SPCA and want to share your joy with others? Submit your adoption story!