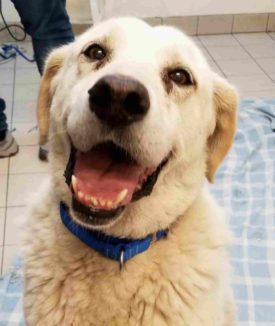 This king of a canine is Conrad. But he didn't always live a regal life.
In July of 2018, when Conrad was brought to the BC SPCA Kelowna Branch by the Kelowna Dog Control he had bite wounds, gum disease and broken teeth. He needed a month of medical treatment and recuperation in one of our dedicated foster homes before he could even be placed for adoption.
He was adopted from the BC SPCA Shuswap Branch in August of that year but returned the next day because the adopters reported he liked to chase animals and vehicles.
It wasn't for lack of a wonderful temperament that Conrad kept showing up at shelters. It was clear from staff reports that he was an easy-going, laid back companion who loved being with people (and with the lady dogs).
At ten years of age, this loyal, loving lad was looking for a solid semi-retirement home, somewhere he could relax and nap outside, and also inside with his people, but also be useful.
On September 27, 2018, he left his final shelter, the BC SPCA Comox Valley & District Branch. Conrad had found his forever home with a family who understands and appreciates this magnificent fellow.
This is the story of Conrad's new life, submitted by his human companions:
It has been over a year since we adopted Conrad the Akbash/Labrador retriever senior. He is well settled into his new home on Vancouver Island.
We have learned to accept his independence and amazing intelligence as well as his love and devotion to guarding our rural home.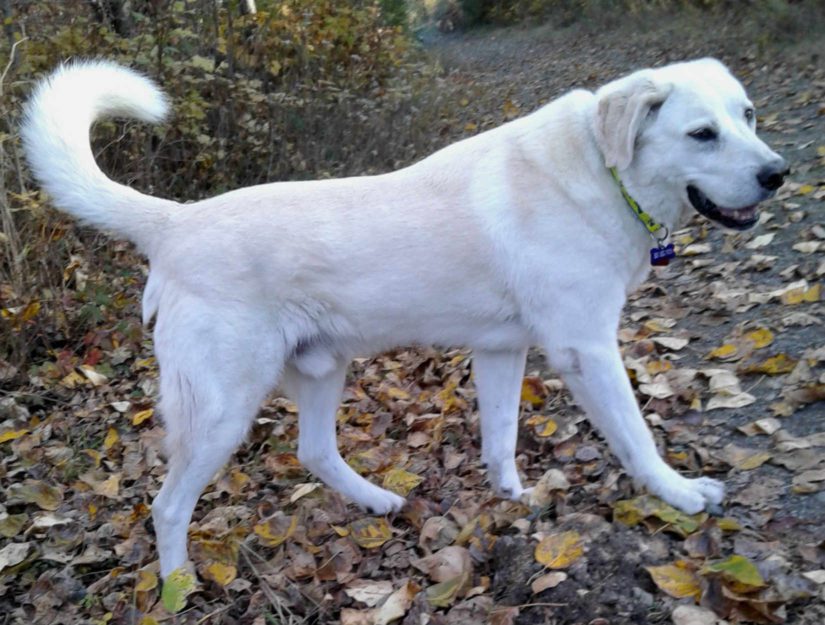 He turned eleven recently and we hope for a few more years with him.
When he sits just right with his front paws crossed and the sun catches his noble head with its biscuit-toned ruff, he is without a doubt the most handsome dog in the world.
Thanks to Victoria and her husband Dean at the BC SPCA Shuswap Branch.
Thank you for making the choice to adopt Conrad. It sounds like he is super content in his new life. And we agree, he is very handsome.
We love to hear how animals adopted from our shelters are doing in their lives after they leave our care.
Have you adopted an animal from the BC SPCA and want to share your joy with others? Submit your adoption story!